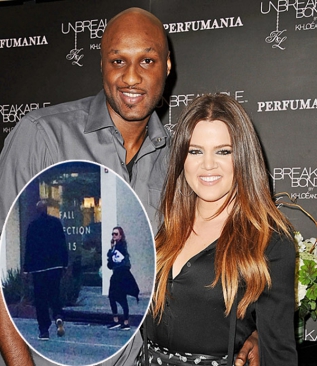 It's the first time that the pair have been seen together since their split was made public, but Khloe was described as visibly shaken by the bust-up.
Khloe Kardashian was reportedly left shaken after bumping into her soon-to-be ex-husband Lamar Odom.
The Keeping Up With The Kardashians star allegedly had an altercation with the former NBA player outside SoulCycle in Beverly Hills at 6:45 on Wednesday morning.
Khloe, 31, was on her way to the gym when Lamar allegedly appeared out of nowhere and launched a verbal attack.
As the reality star attempted to make a getaway, the athlete is alleged to have demanded that Khloe talked to him.
While she walked away, he reportedly reached out to touch her arm.
She was reportedly heard shouting: "Get off of me, get off of me. Stop. Stop."
An eyewitness then reportedly asked Khloe is she needed to police, to which Lamar then allegedly said: "You're not going to call the cops on Lamar Odom."
Khloe, who is reportedly dating NBA star James Harden, was then heard asking Lamar: "How did you know I was here?" She then left in her car.
It's the first time that Khloe and Lamar have been seen together since their split was made public, even though Khloe has said that they do keep in contact in a recent interview.
The reality star, who is set to host her own chat show, has been working hard in the gym ever since the couple broke up - describing it as her sanctuary.
Both Khloe and Lamar signed their divorce papers last month after waiting for over a year.
We have reached out for a comment from Khloe's representatives.
Last month, Khloe admitted she still misses Lamar "every day".
The reality TV star split from the basketball player in 2013 after four years of marriage amid claims he had been taking drugs and cheating on her but despite this, Khloe hinted that he is the love of her life.
"Oh my God, I miss him every day. I miss what we had - things we got to do together are just memories. I like looking back and holding on to that stuff," she told Complex magazine.
"I definitely miss it, and there's times I'll get so sentimental and so sad, but this had to happen for some reason. I'll figure it out over time, someone will give me that answer eventually. I think it would be very weird if I didn't miss it."
Khloe admitted she has yet to find another love like Lamar, 35, saying: "Lamar is genuinely one of the best people I've ever met, and everyone says that when they meet him.
"I think Lamar's gonna always be that person [for me] but that's what made it so special. Even if I had it for five years or whatever, it was the best ever and I'm grateful I did. Some people don't get that ever and I had that magic for a long time.
"I talked to Lamar this morning. I talk to Lamar as often as I can, which is inconsistent, but not on my terms. When you genuinely feel like that was the right relationship, you're supposed to give it all you can. That's what marriage is about."
Khloe revealed she didn't rush to make their split official because she isn't ready to get married again soon.
She explained: "I'm not rushing into my divorce because I'm not looking to get married tomorrow, so I don't have a deadline. I'm not rushing it. So when it's time and it's supposed to happen, it will."