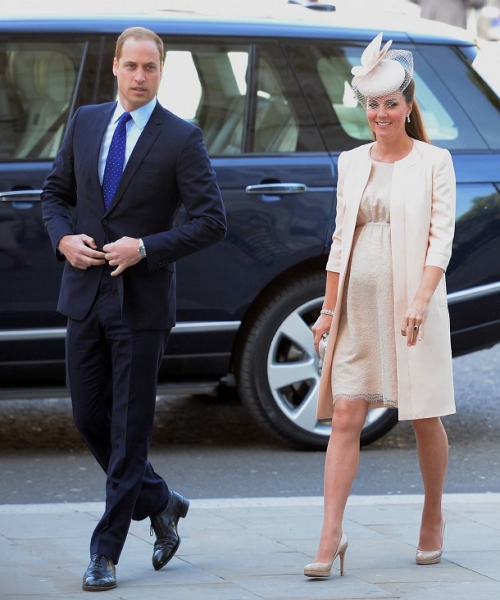 Kate Middleton has given birth to a healthy baby girl.
The Duchess of Cambridge brought a little princess into the world at the Lindo Wing with Prince William by her side at 8.34am.
An announcement issued by Kensington Palace via email and Twitter said: "Her Royal Highness The Duchess of Cambridge was safely delivered of a daughter at 8.34am.
"The baby weighs 8lbs 3oz. The Duke of Cambridge was present for the birth.
"The Queen, The Duke of Edinburgh, The Prince of Wales & The Duchess of Cornwall, Prince Harry & members of both families have been informed
"Her Royal Highness and her child are both doing well."
The baby is fourth in line to the throne, knocking uncle Prince Harry down to fifth place, and because of new laws she will keep her place in the line of succession even if she has a younger brother.
Just like Harry, she will also grow up with the "spare" to the heir tag and be pushed down the line of succession when George grows up and has children.
A girl had been hotly tipped by the bookies throughout the pregnancy with thousands placed on William and Kate having a daughter.
Now the hot betting topic will be what her name will be with Alice, Victoria, Elizabeth and Alexandra as the top choices.
Millions of people across the world are now waiting to see the princess as doctors, led by royal obstetrician Guy Thorpe-Beeston, run routine checks on mother and daughter.
The world's media are stationed outside the private maternity wing of St Mary's Hospital, Paddington, where the happy couple will eventually emerge to show off their new little girl to the world.
She is also expected to receive visitors including big brother Prince George, 21 months, Kate's parents Carole and Michael, her sister Pippa and brother James and William's dad Prince Charles and wife Camilla.
Experts have tipped a girl could be good news for the economy as, just like Kate, shoppers become inspired by her fashion.
Professor Joshua Bamfield, director of the Centre for Retail Research, said before the birth: "When the baby has a certain sweater on, everybody will want to buy that.
"The impact of the baby is going to be the longer period - particularly if it's a girl - the equipment they use, her clothes, her toys."
William and Kate announced they were expecting their second child on September 8, 2014, in an announcement made early because she was forced to cancel an official engagement because she was suffering from the same severe morning sickness she had with Prince George.
On October 20, 2014, following their 12-week scan, they announced they were expecting their baby in April.
This would mean the baby was likely conceived in August, which would coincide with the Duke and Duchess visiting Belgium for the WWI commemorations.
Once she was over the worst of her sickness Kate, 33, continued to carry out her official duties until her last day of official engagements before her maternity leave began on March 27.
In January, she said she could feel her unborn baby kicking.
She said: "It's moving all the time. I can feel it kicking now."
Just as they did with Prince George, Kate and William did not find out if they were having a boy or girl before their second baby was born.
Bookies were convinced the baby would be a girl and the favourite name was Alice, alongside Elizabeth, Victoria and Alexandra.
Before she went into labour William and Kate said they were "hugely grateful for the warm wishes they have received from people throughout the UK and indeed around the world over the last few months."
A spokesman added: "They know that people are excited that Prince George will soon have a little brother or sister and it means a great deal to them that so many will be celebrating this important moment for their family."
Once they leave hospital the Cambridges will spend the first couple of days at Kensington Palace before leaving for their country home Anmer Hall on the Queen's Sandringham Estate in Norfolk.
William will take two weeks of paternity leave and Kate is not expected to be seen in public for much longer.
She will have help with the new baby from George's Spanish nanny Maria Borrallo but the couple have said they are not intending to hire another nanny at this stage.