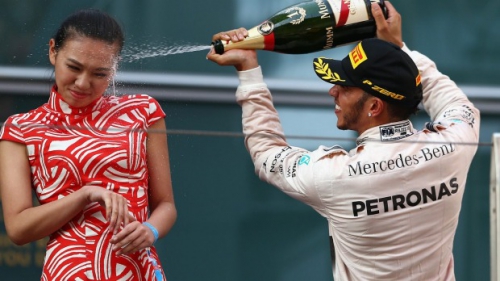 The Brit has been described as 'selfish and inconsiderate' following his post-race celebration in China.
Lewis Hamilton may have eased to victory in the Chinese Grand Prix, but his antics on the podium were less impressive.
The Brit popped the cork and sprayed Champagne, as is normal after victories in Grands Prix, but pointed the bottle directly at an unsuspecting hostess.
She didn't look too pleased at getting soaked by the expensive booze, but Hamilton seemed unconcerned while celebrating his second victory in the opening three races of the season.
He was followed over the finish line by Mercedes team-mate Nico Rosberg, who angrily accused the world champion of trying to compromise his race.
"Driving slower than was necessary meant Sebastian was very close and that opened up the opportunity for him to try and jump me. I'm unhappy about that," the German said.
It isn't the first time Hamilton has been caught spraying a hostess, pulling a similar stunt after last year's Spanish Grand Prix.
He has come under fire from Object, a campaign on media sexism.
Roz Hardie, the chief executive of the organisation, said: "The photographs appear to show that the woman is not just being splashed, but that the champagne is being very specifically directed into her face, which does not look like a voluntary piece of horseplay on her part.
"If this if the case we think Lewis Hamilton should apologise for his actions and think carefully about how he behaves in the future. For most people, it would be apparent that she is not enjoying it.
"It is surely a very difficult position to be a grid girl and she would have had little option but to stand there and take it. That is something of which he should be aware. But instead, he appears to have abused her position."