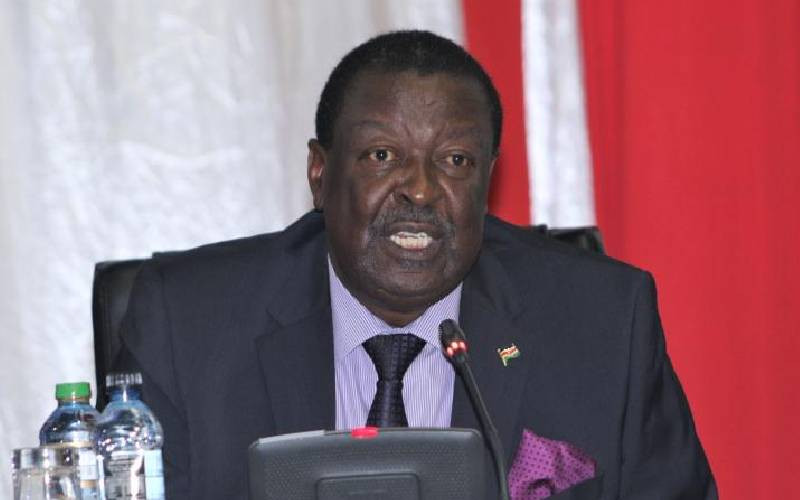 A recent meeting between Prime Cabinet Secretary Musalia Mudavadi and lawmakers from the western region has set tongues wagging.
The meeting in Nairobi on Wednesday brought together Luhya MPs and senators from the Azimio and Kenya Kwanza coalitions.
Mudavadi earlier indicated that they discussed among other things the elusive quest for Luhya unity and the sharing of national resources for the region's development.
While the call for Luhya unity has been there for as long as many can recall, earlier efforts by Mudavadi to see it realised hit a brick wall.
A confidant of Mudavadi said that the meeting was also held to end a perception that the former vice president together with the National Assembly Speaker Moses Wetang'ula were stumbling blocks to achieving Luhya unity.
It was the first time Mudavadi was hosting Members of the National Assembly and senators from western.
Those who attended included Tindi Mwale (Butere), Titus Khamala (Lurambi) and Peter Nabulindo (Matungu) who ditched Amani National Congress (ANC) party for ODM in the run-up to the August 9 polls.
Martin Andati, a political commentator argues that attempts by Mudavadi to unite the people of western may not yield fruits immediately.
"Mudavadi could be forced to go a notch higher. He needs to borrow a leaf from President William Ruto and Deputy President Rigathi Gachagua who managed to cement their positions by creating a good rapport with politicians from their regions, particularly the MPs," said Andati.
He argues the Prime Cabinet Secretary must embrace the lawmakers and senators for him to win their trust going forward "just the way Ruto and Gachagua have done."
The political analyst argues that politicians who attended the meeting could have been interested in finding out whether Mudavadi had learned any lessons from the president and his deputy in regard to building trust and keeping allies.
He is among those who believe that it will take Mudavadi more than meeting elected leaders to ring-fence the region.
"What he needs to do is cast his net wide and rope in non-elected leaders so that he can leverage on diverse ideas and numerical strength to be able to consolidate the region politically," said Andati.
Currently, it is hard to tell who between Mudavadi and Wetang'ula is the kingpin in western given that the latter delivered his Bungoma stronghold to Ruto in the August 9 polls but Mudavadi failed to deliver Vihiga and Kakamega counties.
"He (Mudavadi) failed to deliver Vihiga and even Kakamega and Busia votes to Ruto. In fact, his own MP is from UDA, not ANC. I think a kingpin needs a record better than that," said Andati.
Andati disagrees with those saying that Azimio MPs presence was a win for Mudavadi. "It is too early to interpret the involvement of Azimio MPs in the meeting. He will have to work hard to win their trust in future."
Ikolomani MP Benard Shinali (ODM) said the meeting was a western Kenya affair and none should begrudge leaders from the region for merely sitting at one table.
The lawmaker said their discussion was on the development of the region and had nothing to do with "defecting to other political parties as was being said in some quarters."
Shinali disclosed that Mudavadi invited the MPs and senators to "congratulate us for having been elected as the people's representatives and sought an opportunity to work with us."
MPs and senators in the meeting agreed to work together irrespective of their political affiliation "because our core mandate is basically to serve the people. We will not be ashamed to meet Mudavadi again and work together as a united western caucus."
Nonetheless, Shinali and other lawmakers who met Mudavadi did not confirm whether they will work under Mudavadi as the region's political kingpin.
But there are those who believe the meeting could be the beginning of Mudavadi reclaiming his position as the western region's political supremo.
"Mudavadi meeting Luhya MPs, including those from Azimio, is a sign of good leadership. The electioneering period is over and Mudavadi needs all the elected leaders to help him push Ruto to bring development to the region," said Emmanuela Mulaa, a political scientist at the University of Nairobi.
"Mudavadi is in the government and the leaders must work with him and identify projects that he can present to the Cabinet to be brought into the region."
She said voting patterns, that currently favour ODM leader Raila Odinga, will in 2027 be determined by what Kenya Kwanza will have done for the region. Like Andati, Ms Mulaa argued that it is too early to tell whether Mudavadi will be the kingpin given that Wetang'ula also holds a senior position in government.
"Constitutionally, Wetang'ula is the senior most Luhya leader but as per Kenya Kwanza organs, Mudavadi is third most powerful. It remains to be seen how Wetang'ula and Mudavadi will work in uniting the region," said Mulaa
"In fact, Luhyas are united, and it's the leaders who are not because of their selfish ambitions."
Related Topics