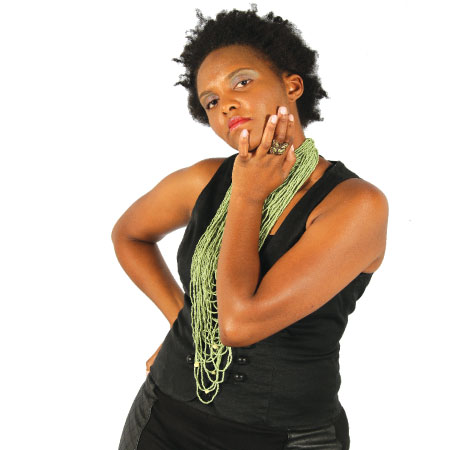 Viola Karuri PHOTO:COURTESY
With her latest video, Milele, on high circulation on radios and TV stations, and gaining more views on YouTube after its debut three weeks ago, Viola is high on confidence. The Ogopa-produced song and video comes at a time when the stable is having issues with artistes.
"The politics at Ogopa are not my concern as I am not signed to them. I go do my thing and leave," says the straight-talking artiste who has a young family.
"I have been asked why I seem to be absolved from the drama; it is because I have no obligations other than paying them and doing my music."
She explains that she chose to work with Ogopa Deejays because she sees the label as the only one able to complement her producing requirements and artistic abilities.
Viola Karuri is an alumnus of the famed Berklee College of Music, graduating with a degree in Music Production and Engineering, with a minor in Vocal Performance. This high calibre training is evident in the clarity of her vocals and lyrical prowess.
"I was at Berklee from 2001 to 2004, and then lived in New York, where I was a performing artiste as well as a producer and engineer."
She released her first album, the self-produced Everything in 2009. She launched it in the United States as well as in Kenya in 2009, when she came back home. Viola says the release of an album was the greatest achievement in her career.
"As an African artiste, I was marketable as there were few of those. But the songs I was doing were not the niche for the bigger market. The environment that formed my subject is more here than in the States," says Viola, who has a performing band, and a mini-studio at home.
After doing Nakupenda in 2011, she went on a hiatus, and resurfaced with Milele, which she did with Collo.
"Collo is a very smooth rapper and I like his lines," the singer says of the former Kleptomaniax member.
The idea for the song came while she was sitting in a coffee house with her friends. The group was so intrigued by what a guy sitting near them was saying to his female companion that they stopped their own conversation to eavesdrop.
"The guy was very smooth in his choice of words, and I got the idea of Milele from that encounter," she remarks.
Viola is now working on her second album, which she expects to release before the end of the year. The singer has an eye on the Grammies, and says her passion is focused and determined.
"Tiwa Savage should listen to my music the same way I listen to hers. Nigerians should have access to our music the same way we have theirs. That is how it should be, and I believe that international market is what I should capture," she says determinedly.
Apart from musical training, Viola explains that the United States is way ahead in terms of organisation and perception of music.
"There is a sense of organisation that is lacking here. Everyone is given a shot there."
She says the biggest challenge in Kenya is the media bias, and opines that some artistes are not given the platform to grow. The failure to recognise Kenyan artistes in the international market is also an issue, and in Viola's opinion there is no reason for Kenyan artistes to feature less on the international platform.
"I eat, breathe and live music," she concludes.
Related Topics