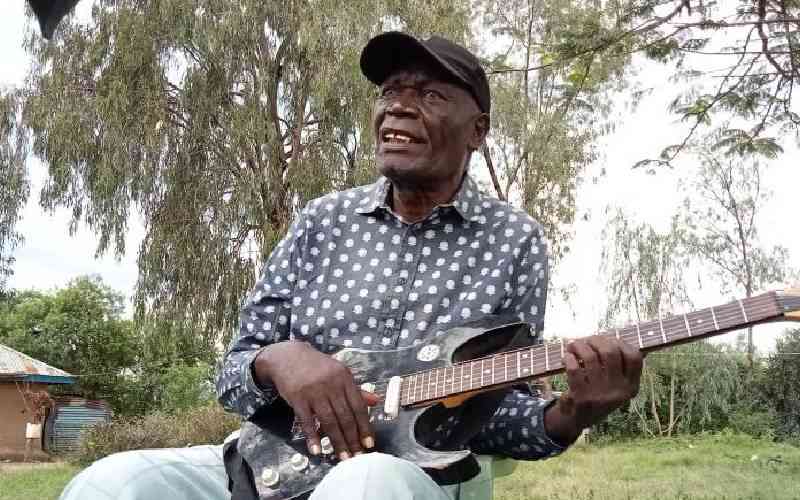 Mention of the name Orwa Jasolo elicits vivid memories of the legendary Luo Benga music that continues to dominate the music scene, albeit with renditions of the classical masterpieces done by past musical greats.
In his heydays in the 1990s, his music was an ear-sweetener and a weekend out was incomplete without the sweet tunes of his music in most nightclubs in the region and parts of Nairobi.
Nicknamed 'Jasolo' because of his unrivalled skills with the Solo guitar, Paul Orwa was in a league of his own and was among the most sought-after guitarists in Nyanza since he burst into the music scene in 1969.
With fame came money and a near-god status for the thriving Luo entertainment scene that gained roots in the 1990s. His musical hits Ondiek Yilo, Alusenge Dan, The late, Peter Kaula, Onyango Koyoo, Opiyo Midianga, Cyprian Awiti and Rapar Thomas Agumba still reverberate in entertainment joints.
Today, however, Jasolo is a shell of his former self and is living in abject poverty at his home in Jimo village in Nyakach. Villagers know he is a legend but can only pity him as he wallows in poverty and is unable to afford treatment.
Disease has turned Jasolo's life upside down after he suffered a stroke in 2016, depleting his resources with several visits to the hospital that have condemned him to a life of begging.
When The Sunday Standard visited him at his home, Jasolo looked frail and had just been taken outside his house to bask in the sun.
He stares in agony and wonders where he would get the strength to overcome the sorry state the stroke has pushed him to. He cannot move on his own and one side of his body has been paralysed by the stroke.
"I miss those days when I was very busy. I spent my day working as a musician. Now I cannot do much. I just wake up and sit either inside or outside my house. I cannot even do any other work to keep me busy, I really loved farming but now I cannot do it either," narrates Jasolo.
He now has difficulties walking and even talking.
"After I suffered a stroke in 2016, I stopped playing guitar and singing in the band. People who do not know I suffered a stroke claimed I became an alcoholic when I lost my wife and it contributed to my condition. But I just woke up one day very weak and ended up here," he explains.
He claims he has struggled to find help but to no avail and many hospital visits have been fruitless.
For several years, Jasolo dominated the musical scene with class.
In 1972, he formed his first band, Victoria Jazz, but would after a year in 1973 rename it to Milambo Jazz band.
In 1985, he formed a new band called Kagero jazz band which rejoined George Ramogi's CK Dumbe Dumbe Jazz band in 1991.
While still with George Ramogi, together they received an invite to tour and perform in various states in the United States by Kenyans who were living there.
He recalls how his education and good music put him on the world map and this is one of the reasons they got a chance to perform in the US.
Jasolo says despite the fact that he has now retired, he misses composing music.
The connections jazz band which he formed in 1995 is now headed by his third-born son. "When I could no longer show up for shows he took over. He came in handy because even those who were members of the band would sometimes miss shows and mess me up," he narrates.
Related Topics