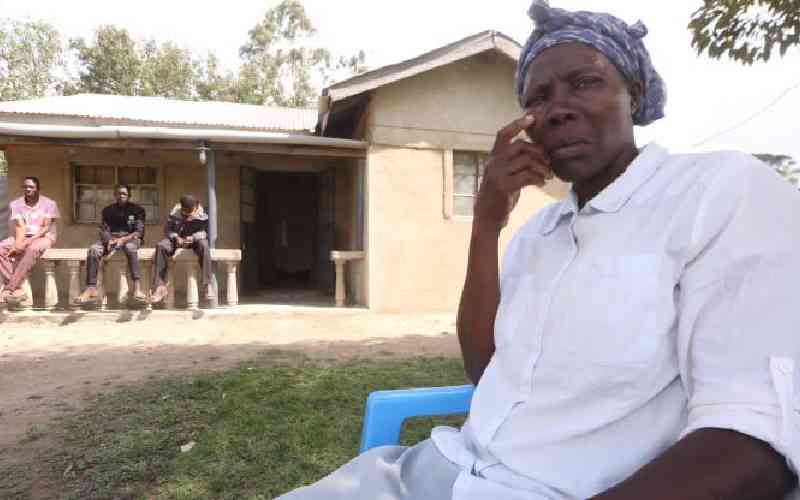 A family in Nyakongo village in Awasi, Kisumu county, are seeking answers after their Form Three daughter died at Awasi Girls Secondary school.
According to the girl's mother, Linet Akinyi, she was called by a teacher at around 11pm Monday saying that her daughter was very unwell. She said the teacher asked her to go that night without fail.
"Because it was very late, I told the teacher to allow me to go to school the following morning, but she insisted that my presence was needed urgently that night because my daughter was very unwell. I had to look for a motorbike to help me get there," she narrated.
The mother said her daughter, Celine Awuor Otieno, developed complications at night after prep studies when students were just going to bed.
According to Mrs Akinyi, her daughter had died by the time she got to the school. The school administration asked her if the 17-year-old girl had any health complications before.
"Teachers said she developed breathing complications when they were going to sleep. But my concern is why the school did not bother to call me when she was unwell," said Akinyi. "They said she was initially coughing. They are saying she was fine and only developed complications when she wanted to sleep."
Mrs Akinyi said her child left for school at the beginning of the term in good health. According to the girl's uncle, Alfred Randa, doctors at the hospital said the girl was brought to the hospital already dead.
"The school is however saying they took her to hospital when she was still alive. Although the medics said she had already passed on by the time they got to hospital," said Randa.
The school, however, declined to comment on the student's death. The family now wants the Ministry of Education to investigate what could have happened to their daughter.
Nyanza Regional Director of Education, Nelson Sifuna, said the matter is still under investigation.
"It is students who noted the problem. Initially they thought she was joking when she started having breathing complications. When they realised it was worsening, they called the matron who rushed her to hospital. On arrival she was pronounced dead," he said.
Related Topics