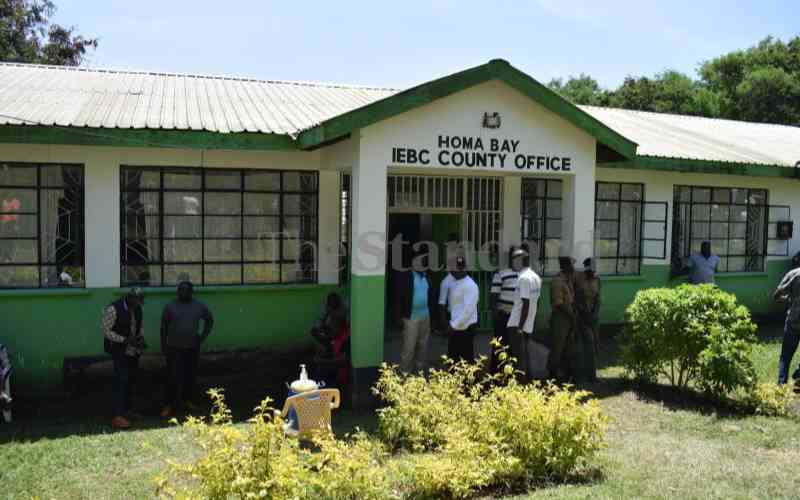 The electoral commission has sacked and replaced four officials in Ndhiwa constituency in Homa Bay County over suspicion of planning to rig Tuesday's elections.
County Returning Officer Fredrick Apopa confirmed the Independent Electoral and Boundaries Commission (IEBC) had dismissed the officials who were arrested after they reportedly held a secret meeting with two candidates. One of the candidates is seeking the MCA seat and the other one is eyeing a parliamentary seat.
Apopa said the four were a presiding officer of a polling station in Kanyadoto ward, two deputy presiding officers of two polling stations in Kanyadoto ward, and a clerk of a polling station in Kwabwai ward.
The suspects had been handed over to IEBC for further action after their arrest before the agency showed them the door.
Apopa said preliminary investigations had indicated that the officials had held a secret meeting with the candidates in a homestead at Riat village in Kanyikela ward on Sunday.
"The officials violated the electoral code of conduct by meeting the candidates," Apopa said adding the IEBC terminated their contracts for attempting to taint the reputation of the commission.
He added: "What they did has lowered their credibility and they can no longer be trusted as election officials. That is why they have been dismissed."
The Returning Officer said the four will face further investigations by the Directorate of Criminal Investigations and the IEBC. They will be charged in court, he said.
Apopa said the commission replaced them with immediate effect. "We had had other trained officials who were our reserve staff. They have taken over the roles of those who were dismissed," Apopa said, assuring residents that the elections will go in the area as planned.
Residents arrested the suspects after they allegedly found them in the alleged meeting before frog-matching them to Ndhiwa Police Station where they were detained.
There were reports that there were other officials who were in the same meeting but were able to escape.
The residents who arrested the IEBC officials said they suspected that they were planning to rig elections in favour of the candidates they were meeting.
The police said they have invited the residents who arrested the four to record statements and shed more light on the incident.
Related Topics