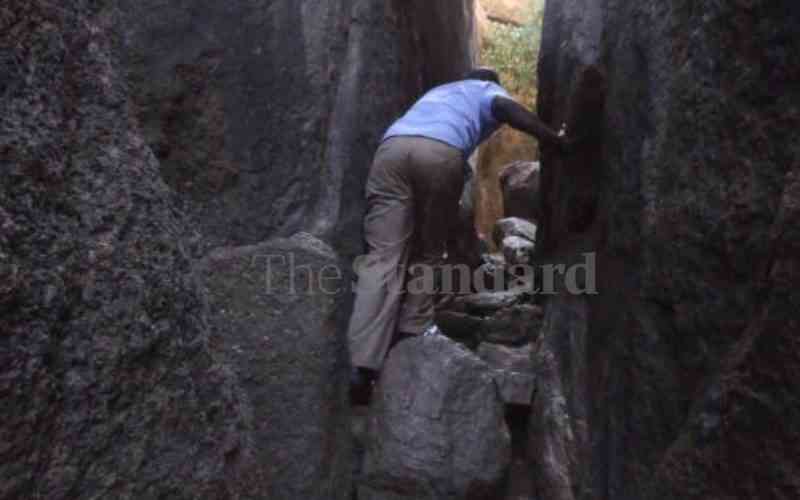 For nature lovers Emanga ridge, Gor Mahia shrine, Abindu caves and Kit Mikayi are scenic sites to tour while in Nyanza.
But to politicians and the faithful (believers), the shrines are a place of solitude where they can pray and conduct rituals, with the aim of having their hearts' desires fulfilled.
It is common to find several groups of people praying in the shrines.
Unlike the faithful, the politicians, according to residents in surrounding villages, visit the places deep in the night and away from prying eyes. Their rituals are discreet.
"They believe the shrines have powers that will help them marshal support to win elections," said one villager.
The sighting of school uniforms, clothes and burnt candles, however, raises eyebrows about the nature of the rituals that take place in the dead of the night in some of the shrines.
Nyamira County's Emanga ridge, which is as old as the history of the Abagusii, is one of the sites in the region where prayers and rituals have been conducted for years in the belief that it has mystical powers.
Also known as Ngoro ya Mwaga (hole of barrenness and misfortunes), the place is revered as a shrine.
Locals visit it not only for psychological healing but also to "bury their social misfortunes".
At a glance, Ngoro ya Mwaga passes for a shallow excavation. But wait until you hear its story.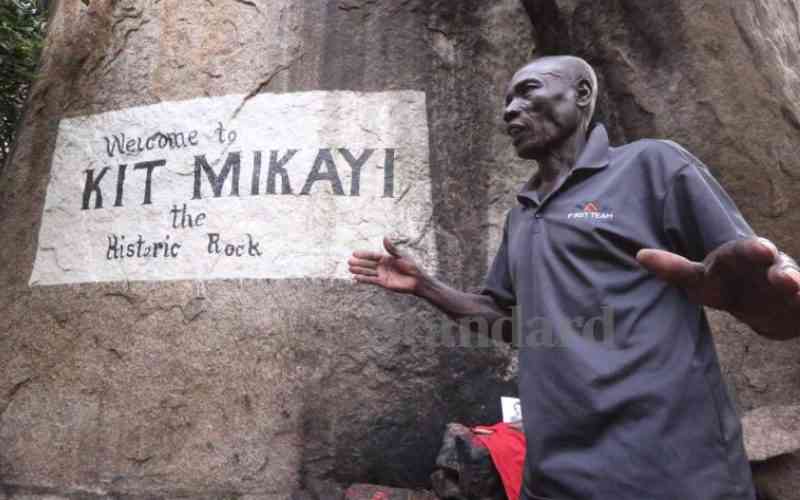 Ngoro ya Mwaga is shaped like a kettle's snout, its walls are lined with pumice rock that has turned green as a result of moss growing on it.
Next to it is a cave which is believed to be the original shelter of Mogusii, the great ancestor of all Gusii people. Mogusii, with his six children, is believed to have settled at Manga about five centuries ago.
The cave is still intact and is situated on a stiff cliff overlooking Kitutu Chache South constituency and part of Homa Bay and Kisumu counties.
The cliff is about 500 metres high and it forms a wide stretch called Emanga that starts from Mote-Momwamu, about 10 kilometres from Kisii Town on your way to Nyamira to its Southern end of the common border of Kisii, Nyamira and Homa Bay counties.
Rituals to exorcise bad omens are conducted at the shrine. It is believed that politicians who want to exorcise bad omens associated with election campaigns visit the shrine.
The cave is believed to be the home to the gods of fortune.
According to residents, high-end vehicles have been spotted near the shrine at night.
According to elders, anyone visiting the shrine has to do the following: collect twigs, throw them into the hole while uttering their wish, bend or kneel and make a knot using grass naturally growing around the place.
The grass is never uprooted while making the knot and it should be left to flourish with the knot.
The many knots doting the area is a testament to the many people visiting the shrine.
The Standard counted about 150 knots tied around the area.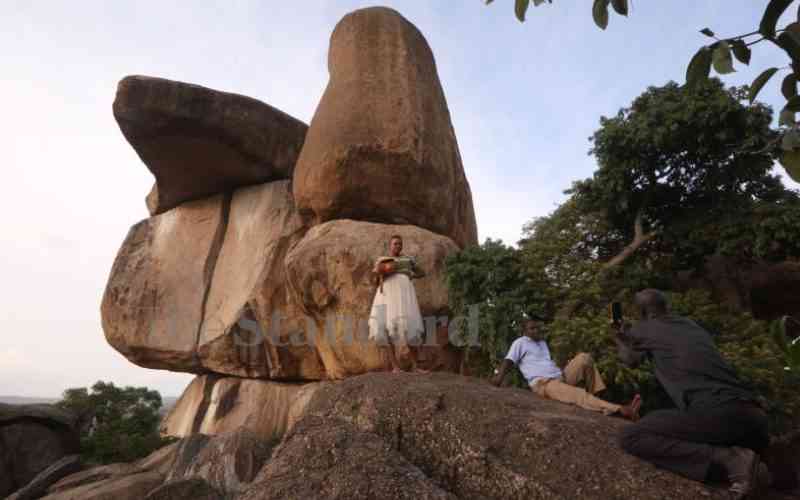 "There are people who come here, especially during the evenings, others come at night with flashy cars to do their rituals. But you cannot follow them due to the sacred nature of their visits," Jabesh Ondieki, 80, an elder residing near Ngoro ya Mwaga, says.
Charles Mayaka, another resident, says he has seen politicians going into the shrine to perform rituals.
"I have seen about 10 people I suspect to be politicians coming here to do cleansing. This shows how important this place is," Mayaka, 40, says.
The County Government of Nyamira is planning to make the shrine a cultural heritage site.
In Homa Bay, every election year, some politicians and their supporters sneak into Gor Mahia shrine to pray and perform rituals, according to locals.
The shrine is situated at Sigama Village, Kanyamwa Kosewe ward in Ndhiwa Constituency. It is the place where the legend Gor Mahia was buried.
It is estimated that Gor was born in the early 1805s and died in 1920. He had 17 wives and several children.
Today, his shrine is marked with indigenous trees and grass.
So why do politicians visit the shrine?
Legend has it that Gor was a magician with supernatural powers. He could pass a crowd without being noticed. He could turn into any object to disguise himself.
According to one of Gor's descendant Joseph Ogada, politicians visit the shrine to seek Gor's blessings. Ogada said many politicians believe that Gor's supernatural deeds can give them powers to succeed in election.
However, Ogada was reluctant to name the politicians, but admitted that a handful including well-known politicians visit the shrine deep in the night. Many politicians do not want their visits publicised.
"It is true that politicians visit the shrine to seek my grandfather's blessings. They come in secretly and would not like their names to be revealed to third parties. They don't what to be associated with whatever they do at the shrine during the visit," Ogada said.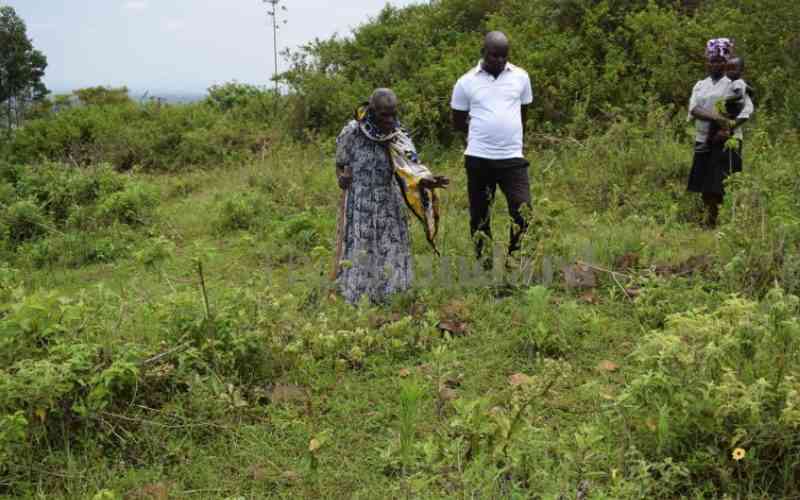 Ogada said they are planning as a family to fence the shrine so as to build a mausoleum.
At the Abindu caves and Kit Mikayi in Kisumu, several Legio Maria sect members have been holding prayers every weekend. The sect members claim that some of the people they offer prayers to include politicians.
Legend has it that Kit Mikayi shrine is associated with good fortunes.
A number of worshippers who go there regularly told The Standard that they fast and pray in the caves for days and afterwards miracles happen in their lives.
"I usually come to this place whenever I need some alone time with my God, and I come here to fast and pray for at least three days. For the last three years since I started coming here I have never been disappointed," said Flegona Anyim.
In Migori County, the Kuria community considers their shrines sacred and serious vetting must be done before someone can be allowed into the shrines. Some elders claimed that visits to the shrines increase during political seasons.
The Kuria revere their shrines and those picked as elders to lead the community visit the shrines from time to time.
The Kuria community is divided into four clans; Nyabasi and Bwiregi clans found Kuria East and Bugumbe and Bwakira clans in Kuria West.
For Nyabasi clan, its 26 elders visit two mountains; Nyakihomo in Nyabasi East and Kebongoyo in Nyabasi West once in a while.
While visiting the shrines, the elders who clad in traditional regalia sit on the ground with their heads bent.
At the shrines, the elders discuss matters affecting their clans, solve disputes and perform rituals to avert calamities and drive away diseases.
[Anne Atieno, James Omoro, Stanley Ongwae and Sharon Owino]
Related Topics