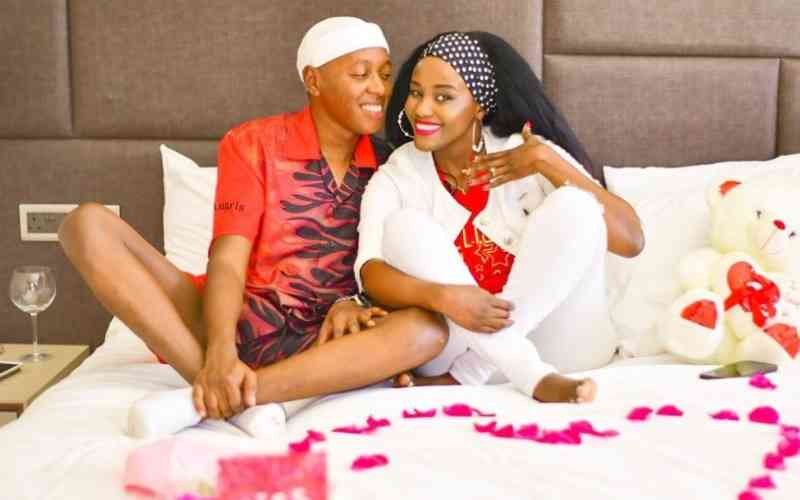 Popular YouTuber Hiram Kamuhunjia and his wife, Gospel singer Grace Mwai, have left netizens surprised after revealing they pray before and after getting intimate.
Sharing details of their marriage in a recent YouTube video, the couple explained that they do so because intimacy is sacred.
"What most people don't know is that intimacy is spiritual. So when you engage in that game, we always pray. You might get into the game without preparation and find yourself losing the ball. So my question is do you pray?"
In Grace's explanation, it is understandable that most individuals do not view intimacy as they do, owing to the changing times and varied beliefs.
"We understand if you don't pray because in this age and era, the thought of praying before might not always come through and it is okay," added Grace.
Hiram further explained that most people experience high and low emotions when it comes to the activity and it is therefore during this time that one should seek God's intervention to help stabilize their feelings.
"The point is some people experience low and high states of intimacy and that is why I say it is spiritual. That is when you should pray. When the lows come, keep the prayers consistent. More manifestation, more power, more energy," he stated.
The couple also touched on how they handle their finances considering Grace has a thriving music career that earns her good money whilst Hiram just recently got his bearing in content creation.
"If you are a hard worker, you don't get intimidated by your wife's success so for me I don't take it in a bad way [sic]. Yes, I'm aware she was independent before. Right now that she is in my house she knows that I will do what I am supposed to do as a man in this house regardless," said Hiram.
To him, Grace having her own money does not change the fact that he is a provider and will always take care of his family.
"I still perform as a man in this house. This is to women who are financially stable. They should not make their men feel as if their men are not performing their duties as men in the house. Even if you are working and you are able to pay that rent, and you know your husband too can afford, don't show him that you can pay, let him do it. So for me Grace having her own income has never been an issue because I'm capable as well. If God has given you wisdom as a wife and as a husband, instead of seeing that as a threat and all that, combine the effort."
Related Topics