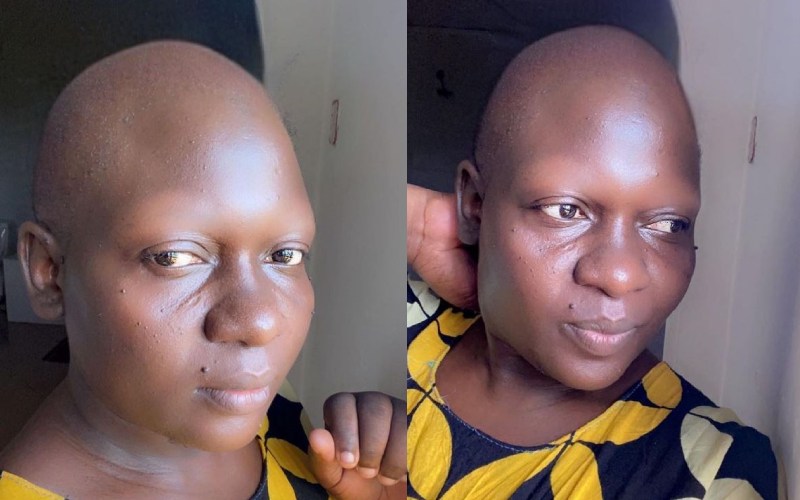 Coast-based singer Mwanaisha Abdalla, popularly known as Nyota Ndogo has left her fans divided over whether she has shaved off all her hair after posting a series of pictures of herself with a shaven head and no eyebrows.
Reacting to the post, a number of her fans believe the singer has truly gone bald while others are convinced she has used a Snapchat filter.
In the picture, the Watu na viatu crooner explained that she had arrived at the decision to cut her hair after unsuccessfully trying to grow it coupled with the unbearable heat of Mombasa.
"Nimechoka na nywele mailini nimekata zote mpaka za miguuni tena nimejikwangura na kijembe hii joto hapana," she wrote.
Netizens quickly flooded the singer's comment section with varied opinions, some making fun of the influencer's alleged new look while others commended her for the confidence she displayed.
Anjelineremb Wow I love your confidence
Njenga_g_w Mzungu amesema ni??
Mj.spice_ unapendeza sana
Berylowano Mamaaa bado umependeza tu.
Cecy_sarah unakaaa fiti lakini within a month zitakua
Rahmareimmy001 Hahahaha mpaka nyusi
Cherry_de_sweet Hii ni app ya snapchat.... Nyota acha uongo
A few weeks ago, content creator Kabi WaJesus surprised his fans when he shared a picture of himself rocking a blond hairdo.
For Kabi, however, many of his followers advised him to revert his hair back to black as it suited him better, a demand he adhered to.
Mudemodel Nomaa hii nayo ngori
Vee.olaz We are not ready for this version of Kabi
Chris_m_ke Mbona unakaa papa fololo
Kayinzaliz And unakaa fiti sana
Rachealtony7 Karibu tuseme ni konshens
Celebrity hype?
With the notable rising number of celebrity style switch-up, many believe it is a new strategy adopted to help them rebrand.
Although this might be true, it is safe to say other individuals in the limelight do it for fun and not necessarily for their image. Not too long ago, YouTuber Thee Pluto made a daring move to cut off his dreadlocks for a price of Ksh1 million.
After receiving his cash price, Thee Pluto has continued to rock his short hair and even gone ahead to dye it.
Related Topics