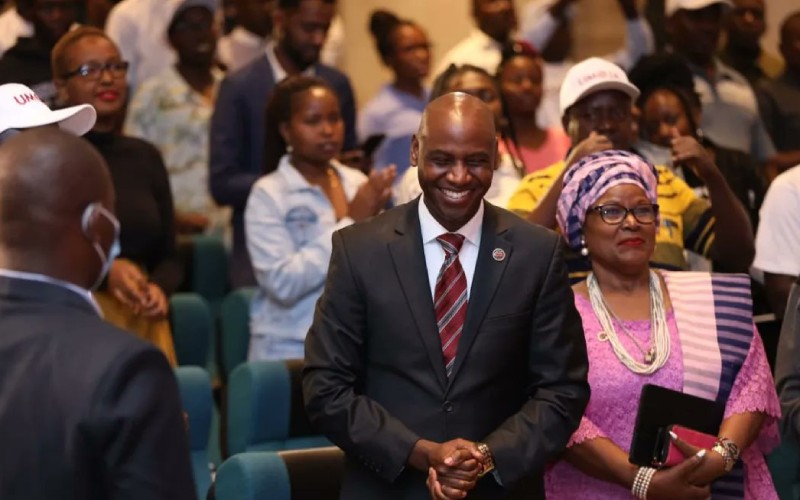 Walter Mong'are alias Nyambane, the former Director of Youth and Development in the Office of the President, has joined the race for the presidency, promising to spur inclusive growth, increase transparency, accountability, and integrity.
Addressing delegates after he was endorsed by Umoja Summit Party during the National Delegates Convention (NDC) at Western Heights, Westlands, Mong'are - a trailblazing Redykyulass and Red Kona comic – said he is drawing inspiration from the President of Ukraine Volodymyr Zelenskyy.
The Vijana Tugutuke champion who formerly hosted Kiss FM's breakfast show alongside Caroline Mutoko said Zelenskyy, a comedian turned president, played the role on television, and is now his country's unlikely wartime hero, in a fight against Russian invasion.
"For a moment, he [Zelenskyy] imitated the president and he became one. I imitated the President and I, too, am becoming. As Umoja Summit, we shall continue to speak with one voice, because this is our land, country, and moment together," said Monga're to thunderous applause from supporters at the NDC.
Mong'are, who dropped his famed Nyambane moniker inspired by his comical role as then-President Daniel Moi in 2017, urged the youth to take up an active role in politics under Umoja Summit to determine their future.
"Eight is a number of new beginning, and, therefore, as a country, we have a new dawn. We shall not use sunroofs or stand on top of lorries and trucks to lecture the youth or dish out money. We shall have a sit-down and listen to them for their voices to influence the decisions we are making. We shall not be making promises but giving them our commitment," said Mong'are
He noted that more youthful representation, as aspired under Umoja Summit's government, would contribute to practical solutions that advance development.
"The youth, who for a large percentage of Kenya's population hasn't been accorded the opportunity to be in the table to influence policy that matters to them. We, thus, assure the Kenyan youth that Unoja Summit Party is your home; it is your vehicle. All we, as party leaders, have to do is to steer. Your thoughts, dreams, and plans will decide the direction it takes," added Mong'are.
Responding to criticism that the presidential poll is a two-horse race pitting Azimio la Umoja flagbearer Raila Odinga and Kenya Kwanza Alliance's Deputy President William Ruto, Mong'are bashed his competitors over early campaigns and called for respect for the rule of law.
"We believe that we are not late into the race for the presidency. Our symbol is a pot because we are cooking great things for Kenya and thank like-minded individuals who have joined us from other parties," he said.
Adding: "There are those who have been campaigning outside the legal period - if we are going to pride ourselves as a country whose people respect the law, then we must respect IEBC and the calendar of elections. Have no fear, we are not late, voting is on August 9."
A message he underscored when speaking to The Standard in February after he tendered his resignation. Mong'are said he will not be boxed into existing political ideologies saying it will not add value to the future generation. "At my age, I believe that we need to propagate some things afresh. There is no value addition by jumping into bandwagons," he said.
Related Topics