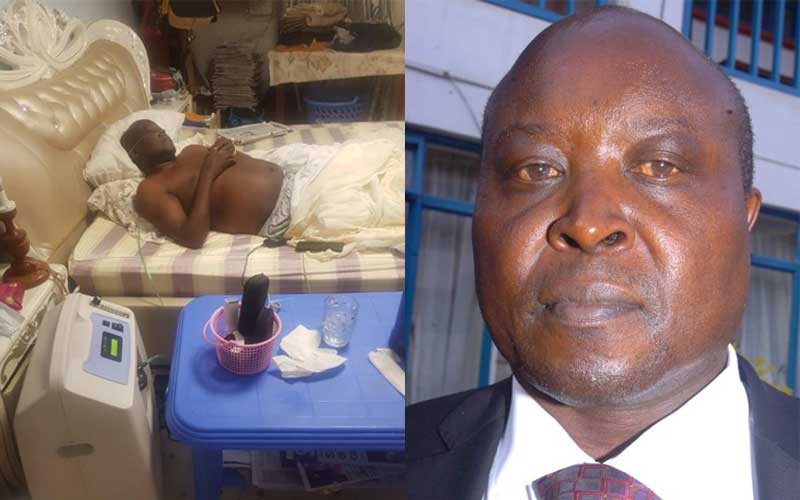 [email protected]
On November 2, Nakuru Town West MP Samuel Arama drove to Naivasha to attend the Building Bridges Initiative (BBI) meeting. Earlier, Mr Arama had taken a Covid-19 test at a health facility in Nakuru after he experienced chills at night. However, on arrival at the hotel where he was to spend the night, he started experiencing chills again and developed fever, pain in the joints and nausea. Soon he started experiencing shortness of breath. He informed his colleagues that he was feeling unwell, and they quickly planned to take him to Nairobi for treatment.
Not able to walk
"When I booked into my room, my body temperature was high and I had chills. It was at that time that I received a phone call from health officials that I had tested positive for Covid-19. I had gone for the test before travelling to Naivasha," he recalled.
READ ALSO: MP on the county radar, being sought by Covid-19 watch teams
But when he informed the department of health about his plan to travel to Nairobi for treatment, he was counselled and advised by the County Chief Officer of Public Health Samuel King'ori to self-isolate in his house where he would be monitored by medics. Inside an isolation room in his house, he was put on supplemental oxygen and fed through tubes, with doctors examining him in the morning, afternoon and at night.
"For the past several weeks, I have kept off the public because I was not able to walk, talk or eat after being diagnosed with Covid-19," said Arama.
After 15 days, he began to feed normally and later tested negative for coronavirus.
"God has been merciful to me. Gasping for air and feeding through tubes was the most trying moment in my life. Actually, this was my first time to feed through tubes and get oxygen support," he said.
The MP plans to work with community health volunteers, the police and youth to sensitise locals on Covid-19 preventive measures. He wants to buy at least 20,000 masks to distribute to the needy through local administrators and nyumba kumi members.
Before being diagnosed with Covid-19, Arama used to hold meetings with constituents. Initially, he used to criticise police whenever they arrested people for contravening Covid-19 protocols.
"At times I would rush to the police station whenever I heard that someone had been arrested, but now I support the police to fully enforce the set containment measures. It is through discipline that we will save the society," he said.
He said during meetings with constituents he never thought he would contract the virus.
READ ALSO: Botswana's entire parliament placed under quarantine
"I take this opportunity to thank God for giving me this second chance to serve Him and the people of Nakuru Town West," he said.
His message to the public is to wear masks, wash hands with soap and water and avoid crowds.
"We need everyone to put on masks, wash hands with soap and water and avoid gatherings. This is the only way to contain the spread of this virus," said the MP.
Dedication and courage
Arama applauded health workers in Nakuru, for their dedication and courage in the fight against Covid-19.
"I can confirm to you that Nakuru County has the best health facilities, equipment and qualified medical personnel. I spent two weeks on oxygen support machine, intensive treatment and consistent checkups," he said.
Health records indicate that the attack rate in Nakuru is 169.2 out of 100,000 population, with a case fatality of 2.2 per cent. Although the MP was reluctant to reveal the cost of his treatment, a source at the local department of health told The Standard he incurred a bill of Sh51,684 per day because he required supplemental oxygen and his condition was critical.
Related Topics