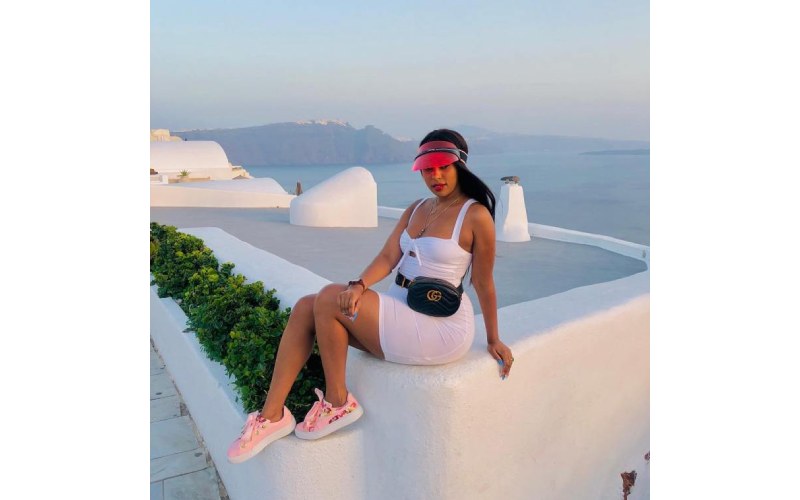 Socialite Faith Makau aka Amber Ray celebrated her birthday this week and her Instagram followers were in for a treat after she decided to post a revealing photo ahead of her Nanyuki trip. The rather controversial and Instagram famous party cat posted a picture clad in a barely-there beige outfit, while intrepidly flaunting her ample derrière. She also had a champagne bottle on one hand and a glass full of bubbly on the other.
The socialite is bound to spend her birthday in Nanyuki with fans this coming weekend. The celebrations will be a part of her partnership with a local taxi app that will see her supporters head down to the town and back.
Elsewhere, city entertainer turned graphic animator Prince the Deejay is seeking legal assistance after sharing a video of his empty house after his household items were repossessed.
Also read: Brown Mauzo says he never dated Amber Ray
Prince alleges that his landlord authorised his house manager to store away his personal belongings following accrued rent arrears. "These are the effects of Covid-19. I was away visiting my siblings only to come home to an empty house.
Also read: It feels like heaven after divorcing my husband — Amber Ray
My landlord instructed the caretakers to hide my personal stuff. Is that even legal?" asked the former Ghetto Radio presenter. He went on to call out his defaulters: "If you have my money, I'm coming for you. You are part of why I'm going through this." The situation has been dire for entertainers who've had their shows cancelled for the better part of the year with several others seeking alternative sources of income.
Related Topics