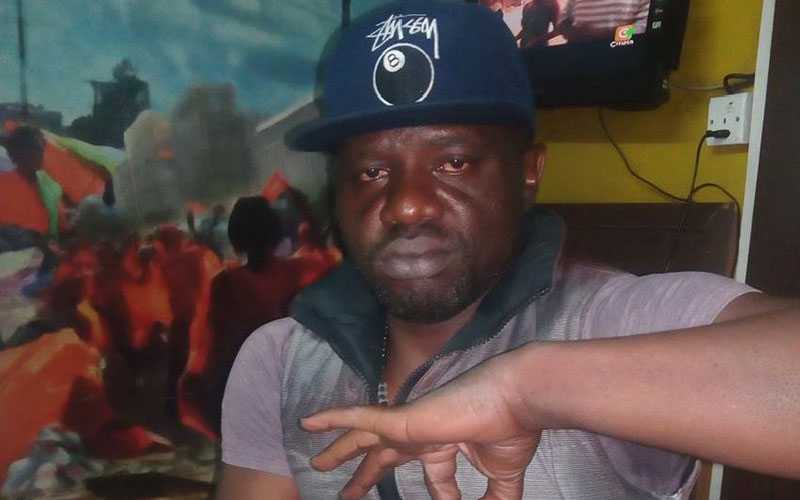 A few months ago, comedian and NACADA board member Chipukeezy made an appeal to anyone with information about the whereabouts of veteran MC Bayo to come forward so that they could continue offering him help until he recovered. Bayo had fallen from fame and sunk into depression and addiction. Despite being checked into a rehab facility considered as one of the most prestigious at Chiromo lane treatment centre, Bayo left before his prescribed time.
"He became uncontrollably violent and had to be let out. In a rehab facility, mutual consent has to be in play. You cannot force someone into the facility. We tried to track him down, but it's not possible to catch up with him in Kibra. You would never know where to find him," Chipukeezy shared. However, the veteran emcee alleges that in the process of his recovery, he felt like a puppet - a PR stunt. "When they first came to find me, they came unannounced straight to Gatwikira in the heart of the slum. Why would someone now claim that since I left, they cannot trace me. These are publicity stunts I didn't want to be dragged into," he reveals.
"I do appreciate it because they checked me into a good medical centre, but I felt like they had no exit plan for me." According to Bayo, a lot of his friends ran away from him after things went south. I realised that most people were with me because of the fame. They wanted money. When I sunk into addiction and depression, no one was to be seen," he says, seemingly hurt.
"Some people run away because of stigmatisation. As a board member in Nacada, I promise him a permanent job as soon as he fully recovers to sustain him. He was responding very well, but he could be suffering from bipolar issues so he took off rather violently," said Chipukeezy. According to Bayo, no such information was communicated to him. "They kept coming up with suggestions to the media, which never materialised. I felt my condition was getting better but where was I to go after leaving the facility? Would I still go back to the ghetto and stay homeless," he posed.
A lot of people took notice and visited me while in rehab, including celebrities whom I really appreciated because I felt they were genuinely concerned. I appreciate BET nominee Khaligraph Jones who visited me with other gengetone artistes just to encourage me," he divulges.
I have seen it all. I have slept on pavements; I've been beaten up by people I know in the hood I grew up in because I lacked money and I have been chased at night by stray dogs. All I needed was assurance that when I leave the medical facility, I'll have peace of mind. Not publicity.
According to Chipukeezy, once Bayo fully recovered, he was to propose his name as one of the emcees for all Nacada events. "They never at one time mentioned that to me, I only heard it in the media," Bayo retorts. "It's ok, you will recover fully, but what does the future hold? It's so easy to sink into the same pit," he explains.
Also read: Chipukeezy, Jaguar to the rescue of MC Bayo
Currently, Bayo insists that his health has improved, but the stigmatisation is demoralising. "It's hard to even get a job these days. I go for days without meals because I don't want to beg for money." "I'm ready to get back to show business. The pandemic made it all hard to run any shows, even those that had promised me business, but I'm willing to get back up and continue entertaining my fans," he says.
Also read: MC Bayo escapes from rehab
"My life crashed when I lost my mom. There's so much I have endured and that's why people cannot understand where I'm coming from. I need help and support to bounce back," he says, as he slides back into the slum where his popularity is still pronounced.
Related Topics