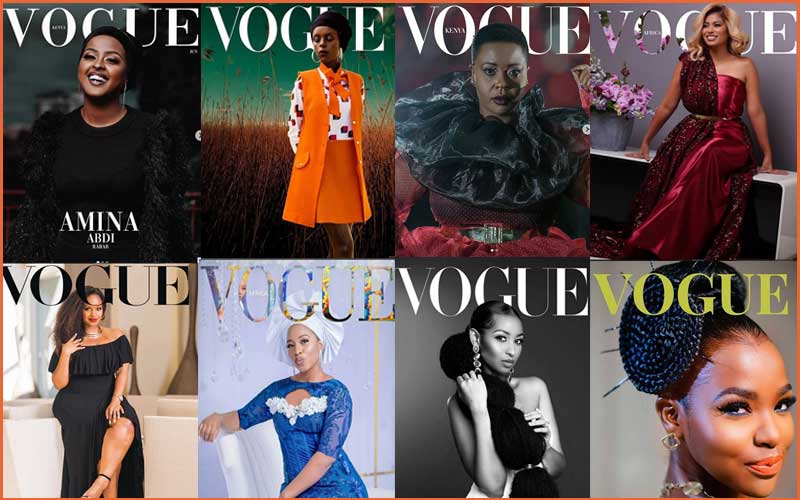 If you are an avid social media user then you have most likely interacted with the #voguechallenge that has taken the world by storm. Started during the Black Lives Matter protests, the challenge which involves mock-up Vogue covers with black models is meant to provide a platform for black photographers, designers and models to showcase their artistry.
According to Salma Noor, a fashion student based in Norway and creator of the viral hashtag, she was inclined to start the challenge after she realized not many black people have been featured on the magazine.
READ ALSO: Kenyans take on the #WamlambezChallenge
"My inspiration for this challenge was the lack of representation of black people that looked like me on the front cover of magazines. In light of recent events in America with the topic of race, I felt like it was the right moment to post an edit of me on the cover of Vogue," said the aspiring model.
Still in disbelief as to how much recognition the challenge has gotten, Noor encouraged the fashion industry to embrace more diversity.
READ ALSO: Coronavirus- Funniest #stayhomechallenge posts
"To bring so many people together for something like that is truly amazing... I had no idea it would reach so many people including Vogue. I think the fashion industry isn't diverse enough yet. We need people with different opinions, backgrounds, religious beliefs, heritage, and life experience to be highlighted," she said in an email to CNN.
Kenyan edition
Back in Kenya, netizens were not left behind. As soon as they got wind of the challenge, many Kenyan women celebrities included hopped onto the challenge.
Among those who participated in the challenge was radio Queen Kalekye Mumo who even got a mention on CNN.
READ ALSO: What is the Tik Tok #fliptheswitch challenge?
"I did this challenge to not only use my voice but use my face to show the beautiful, talented black people across the world, let alone Africa and Kenya that could grace the magazine with finesse. My hope is that the fashion industry will begin to embrace black faces of all shapes and sizes - especially since I am a fabulous plus-size woman," wrote Kalyeke.
In an email to CNN the former Kiss 100 presenter revealed that she was mesmerized by the level of positivity the challenge brought.
"I was pleasantly surprised to see that it was a challenge to uplift and amplify black faces and voices in the fashion world. Being a fashion enthusiast myself, I picked one of my photos from a previous personal shoot I did to support local talent and made a cover," she said.
Here are photos of other celebrities who nailed the challenge:
Related Topics