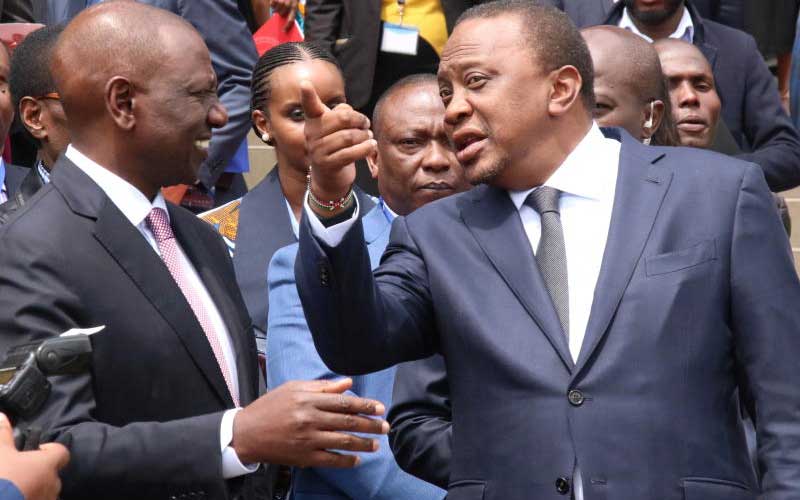 [email protected]
President Uhuru Kenyatta's decision to bypass the presidential pavilion where his deputy William Ruto waiting to receive him and leave the Jomo Kenyatta International Airport (JKIA) through the ordinary passenger terminals upon arriving from a trip to Zambia has added impetus to the recent talk of a souring of relations between the two.
The president, who arrived at JKIA at 4pm on Saturday, discarded protocol and went straight to the international passenger terminals catching his deputy unawares. Ruto was accompanied by Kiambu Governor Ferdinand Waititu.
Dr Ruto, who was waiting at the Pavilion, immediately left for the city centre, after he was informed that the president had already disembarked from the plane and was inside the airport in a series of events that officials tried to dismiss as a 'small deviation from the usual protocol.
The confusion
"The DP was a bit late to the airport hence the confusion. There was nothing sinister," said a senior official who asked not to be named.
But multiple sources around the president said his decision not the result of an impromptu change of plan. The president, according to sources, was not keen to seen with the Kiambu governor who was being looked for by the police.
Mr Kenyatta is also said to have been unhappy with pronouncements the DP's allies made the previous day at an event in Uasin Gishu that amounted to a direct attack on the ongoing war against corruption.
Speaking at the event, which was attended by Dr Ruto, Laikipia Woman Representative Kate Waruguru claimed corruption cases facing former Finance CS Henry Rotich was political and that the president had been misled into believing lies and propaganda from those around him.
"Today, we are looking for enough evidence on Arror and Kimwarer dams without which we are not going to accept the charges against Mr Rotich. We know there are 28 people who are being coerced to testify against him," she claimed.
Related Topics