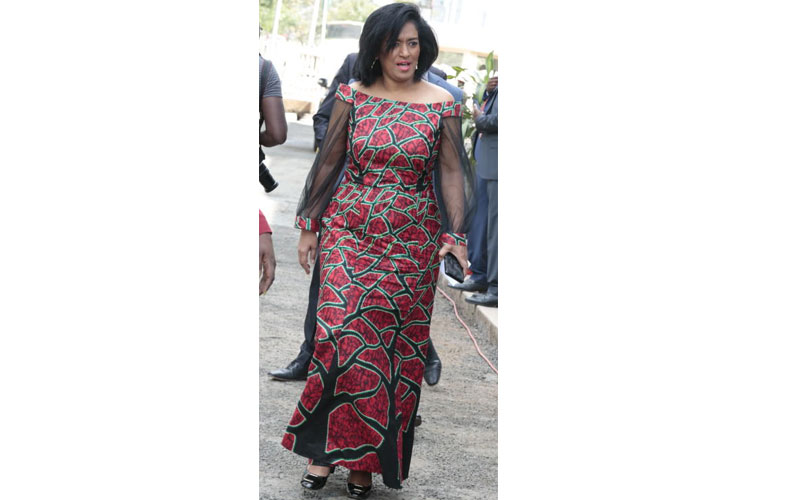 Nairobi women representative Esther Passaris effectively shut down a troll enquiring on a see-through dress worn by the politician.
Terming her as having 'no integrity,' the twitter user asked Passaris to respond to the photo.
In the undated photo, Passaris is seen wearing a black maxi dress with a slit running up to the hip.
However, the slit is translucent as the multi-layered dress conceals her skin to an extent.
Absolutely no integrity. 52years and you give Kenyans this ? @EstherPassaris . Please respond to this pic #Passaris pic.twitter.com/1vYKygvbQp

— MICHAEL WAMUNYINYI (@mike_wamunyiny1) June 10, 2019
In her response, Passaris pointed out that her husband bought her the dress and she has no apologies wearing it.
My husband bought me that dress and I have no apologies when I wear it. #MyDressMyChoice https://t.co/rwgY9cuuXq

— Hon. Esther M Passaris (@EstherPassaris) June 11, 2019
Other social media users also weighed in on the matter.
I see ABSOLUTELY nothing WRONG with her DRESS

— Gucci Roddman (@Gucci_Roddman) June 11, 2019
Enyewe mmeanza kuwa petty. Waaaa

— Sα?c?ιo?ed Iα? Mαr?™ (@IanmarkKimani) June 11, 2019
Are you speaking for Kenyans? I doubt, let her be.

— OkoreEsq (@OkoreEsq) June 12, 2019
Why are we still policing Women's choice of clothing in 2019.?

— TheLifestyleTourist (@ms_tourist) June 12, 2019
We will not sit back and allow ladies to break the moral fabric in the society

— MICHAEL WAMUNYINYI (@mike_wamunyiny1) June 12, 2019
A true leader should always dress with integrity. Dressing speaks loud who you are

— stephen kitonga mutisya (@KitongaMutisya) June 11, 2019
Related Topics