A Githurai 44 woman is living on borrowed time after the dreaded faceless cops alleged to be behind the page Hessy wa Dandora issued her a warning.
In the post, Hessy wrote that the lady, Linar Mmbone, had a few hours to surrender and hand over a pistol she is seen brandishing in one of the photos or face the consequences.
Hessy further stated that Mmbone was on the cross hairs and those who know her should take time to reach out to her before it is too late.
"Whether your account is deactivated or not, you have less than few hours to surrender to the nearest police station ukiwa umebeba iyo kitu: hapa Githurai 44 siyo mbali sana vile unafikiria.
"I know your friends are here, sympathisers are also here watching, human rights activists are also here as the witnesses. Staki baadae iwe ati Hesy sijui nini,…. U now have time to assist this lady bring back our property before things get hotter! Ni hayo 2," read the post by Hessy.
The alleged cop(s), Hessy Wa Dandora, have often been on the news for issuing chilling warnings to notorious gangsters before they are eliminated.
Just a few months ago an alleged notorious Dandora gangster was on his knees begging for his life after the alleged crime buster issued a similar warning to him.
The alleged gangster, Brayoh Kigonyi, posted on Facebook that he was now reformed and had surrendered to the police.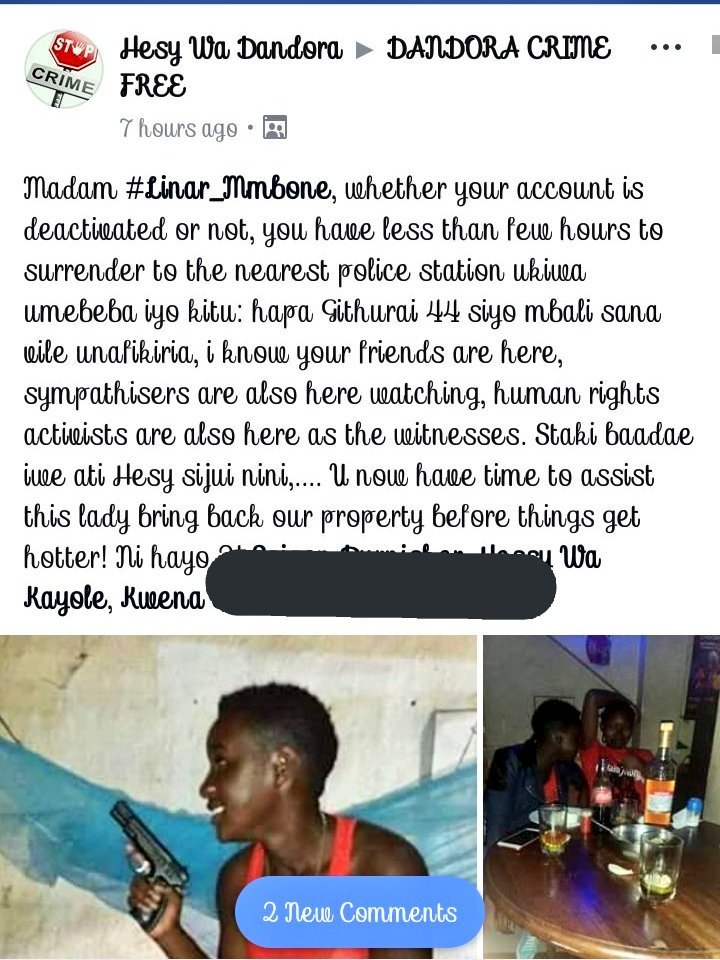 Related Topics