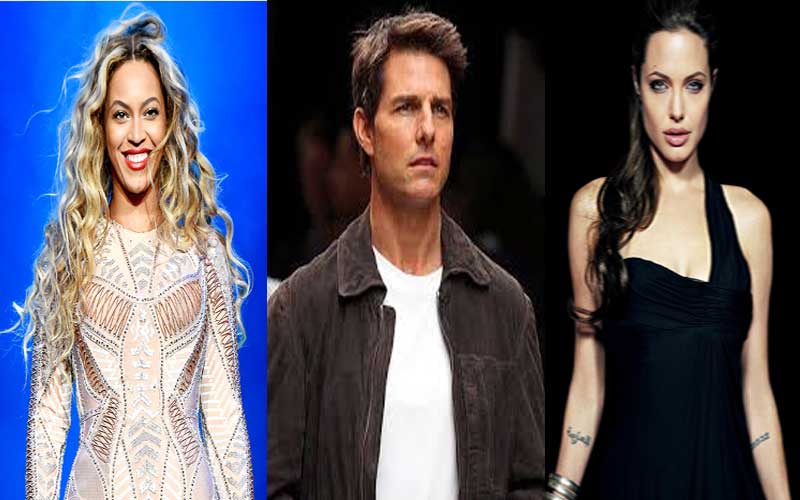 Deciding on the perfect gift to give a loved one can be difficult.
There are those who take the sentimental route and bank on presents that will tug at heartstrings
For celebrities with bulky bank accounts and no care for how far their cash will go, giving gifts can get extreme
David Beckham
David Beckham broke the bank back in 2005, reportedly giving wife Victoria Beckham multiple gifts under the tree! According to Oxygen, Becks first gave her a $100,000 (Sh10.3m) diamond-encrusted handbag, then followed it up with a custom-made $500,000 (Sh51.5m) Rolls-Royce Phantom. The kicker? A $2.4 million (Sh247m) ruby and diamond necklace from Boucheron, the famed Parisian jeweller. Who says "love don't cost a thing"?
Paris Hilton
If you're going to gift yourself something for Christmas, you might as well go big, right? Paris Hilton did just that when she once splurged on a $285,000 (Sh29.3m) pink Bentley Continental GT. But that's not all; the dashboard was diamond-encrusted. Her penchant for fast cars doesn't stop there. Not so long ago, E! Online reported she got herself a 2012 California Spyder Ferrari worth close to $300,000 (Sh30.9m) on Black Friday - it doesn't look like it was on clearance sale.
Mike Tyson
Celebrities aren't exactly known for being frugal, but when Mike Tyson was married to Robin Givens, he reportedly spent a whopping $2 million (Sh206m) on her for the holidays. But no, it wasn't on a fancy sports car, a sparkly diamond ring, or even a big new home. So… what'd he buy her? A bathtub! Hey, at least it was practical.
Angelina Jolie
Nobody gives a gift quite like Ms. Jolie — even Santa Claus himself. Case in point? According to The NY Post, she bought an actual waterfall in California for Brad Pitt during the holidays last year. Pitt once said, "acting is his career, but architecture is his passion," so his gorgeous gal reportedly had a hunch he would want to build there. The purchase came after the A-listers visited Frank Lloyd Wright's Fallingwater in Pennsylvania back in 2006. Talk about a gift that keeps on giving!
Tom Cruise
In 2011 all Suri Cruise wanted for Christmas was $130,000 (Sh13.4m) worth of presents. And reportedly, doting dad Tom Cruise was happy to give it to her. While most five-year-olds would be content with Barbies or Legos, Suri's wishlist was a little more luxe, featuring a pony, diamond earrings, and designer gowns "that will make her look like a fairy princess." She may be young, but she sure has good taste!
Tori Spelling
What do you do when you want a white Christmas in Los Angeles? When you're Tori Spelling's dad, you buy it! Uber-producer Aaron Spelling once had a snow machine deliver tons of fake snow (reportedly $2 million dollars' worth) to their home in Beverly Hills so young Tori and her bro could have their very own "winter wonderland." The best part? Tori loved it so much, she did the same thing for her own kids in 2009 with hubby Dean McDermott.
Ben Affleck
Ben Affleck sure knows how to make his girl feel loved! Rumour has it the handsome star gave his wife Jennifer Garner a stunning seven-carat diamond ring for "being a good mom." But Mr. Affleck is no stranger to outrageous gifts; He reportedly once gave Jennifer Lopez a jewel encrusted toilet—complete with rubies, sapphires, and diamonds. Wowza! Wonder if J. Lo was 'flushing' with thanks over that one?
Jude Law
Jude Law is as generous as he is good looking! One Christmas he showered former flame Sienna Miller with a restored baby grand piano for their North London mansion. If that's not extravagant enough, he hid a diamond and sapphire ring inside (worth $200,000) as a special surprise. But as amazing as this gift (and proposal) was, sadly the couple didn't last.
Beyoncé
Beyoncé's hot hubby Jay-Z may have 99 problems, but his Bugatti ain't one! In 2010 the sexy songstress gifted her man the world's fastest car worth a cool $2 million (Sh206m) big ones for his December birthday (let's hope it qualified for his Christmas present too). But spending this amount of dough is nothing for the superstar couple; Jay-Z rang in the holiday cheer by buying her $350,000 (Sh36m) worth of Birkin bags from Hermes.
Mariah Carey and Nick Cannon
And speaking of cars, Nick Cannon showed his holiday love for sweetheart Mariah Carey with a $400,000 (Sh41.2m) Phantom Rolls-Royce, complete with personalised "mommyMC" license plate. Well, one thing's for sure—"dembabies" are riding in style!
Katy Perry
Buckle up, because this strange celebrity gift is literally out of this world. Popstar Katy Perry surprised her former husband Russell Brand with a seat aboard Richard Branson's Virgin Galactic space ship for the sky high price of $200,000 for 2 tickets. Passengers on this plane have the chance to experience anti-gravity for five minutes before reentering the Earth's atmosphere. Perry purchased herself and Brand both a ticket so they could celebrate his 35th birthday. Unfortunately, she couldn't escape the gravity of their tumultuous relationship and the two divorced after 14 months of marriage. With no prenup and no gift receipt for his seat aboard the spaceship, Perry's act of kindness never lifted off of the ground.
Kanye West
Just in case giving the gift of one Burger King wasn't enough, Kanye covered his bases and bought his wife Kim Kardashian 10 Burger Kings. Now Kim can "have it her way" all around the world. The Burger King franchises that Kanye purchased for his lady are located across the pond, ranging from the UK to Italy. Burger King even offered to cater the dramatic duo's multi-million dollar wedding. Truly a gift fit for Kings and Queens.
Source: Internet
Related Topics