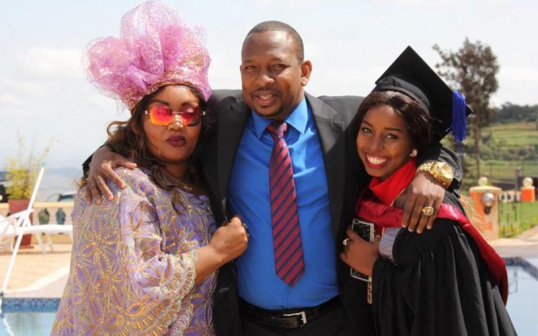 Politicians are said to be Type 'A'personalities: magnetic, sociable, outgoing, full of endless energy and unbridled sex drive, which explains why they attract the opposite sex. That most are rich and influential only adds to their attraction.
Being in the public limelight, however, seems to put a strain on their spouses, especially if the partners are in the background, shy and introverted. Is it any wonder that most loudmouth politicians have spouses who are mostly kept in the background alongside the children? It does not matter whether the said politician is a man or woman.
President Uhuru Kenyatta's wife, First Lady Margaret Kenyatta, became a public figure after his ascent to the presidency. But before that, she brought up their three children in the shadows. The same goes for Deputy President William Ruto, whose church-going wife Rachael is the epitome of meekness, not betraying even the faintest hint of combative brusqueness in the face of allegations of infidelity and demands for child upkeep levelled against her 'Brother William' husband by another woman.
Both Margaret and Rachael run the offices of the First Lady and Deputy First Lady, respectively, but minus the high drama associated with our brand of verbally expletive politics in which lack of shame is a prized asset. They are both or so fundamentally different to the abrasive Lucy Kibaki, the late combative former First Lady who seemly had an iron-hold over an otherwise aloof and deceptively timid former President Mwai Kibaki.
Former Dagoretti South MP Beth Mugo has been in public life for many years, but her hubby, Ambassador Nicholas Mugo, is rarely seen in public.
Then there are those couples who despite holding visibly high public offices, mind their own business. Think of lawyers James Orengo and his wife, Betty Murungi, who is equally always in the news without stealing thunder from 'Jimmy.'
How many people know Governor Hassan Joho's wife, essentially the First Lady of Mombasa County?
Such political odd couples invite curiosity and scrutiny as they lend credence to the lovers' mantra that opposites attract.
But there are political couples who are both boisterous firebrands in the public eye. Think of Nasa leader Raila Odinga's wife Ida before her retreat from the public limelight. Or Machakos Governor Dr Alfred Mutua and his equally public wife, Lilian Nganga, who has made controversy her middle name.
Do opposites attract in politics or is there unending drama when one marries a spouse who's an equally high profile public figure?
Millie Odhiambo and Magugu Mabona: I cook, wash clothes and clean the house.
He is the little-known husband of Mbita MP Millie Odhiambo who once confessed that the man from the land of 'Uncle Bob' entered her life when she had given up on dating.
"He is another special delivery from God," she said of her Zimbabwean hubby whom she met on the Internet. "He came at a time when I had purposed to block any relationship from my life, then he landed from nowhere with a thud into my heart."
Millie, a lawyer, married the hotelier on February 14, 2006 on Valentine's Day, on a ferry in Lake Victoria. Millie does not have children of her own, but has a stepdaughter, Lebo Mabona, who lives in Botswana.
Theirs is a long distance relationship, but Millie still finds time to visit him at Victoria Falls, Zimbabwe, at least four to five times a year. Mr Mabona has little interest in politics and prefers a quiet life, she once said, adding that she does house chores in Zimbabwe and that, "Given my crazy life, I do not cook regularly except when I am in Zimbabwe, then I do all the house chores. I cook, I wash clothes, I clean the house and all."
Mike Sonko and Primrose Mbuvi: where is the first lady?
She is the wife to the vocal and flashy Nairobi Governor Mike Sonko, who admitted to being polygamous and revealed through his social media pages that he has two wives. The most notable one is Primrose, the mother of his third daughter, Sandra. Primrose, like most politicians' spouses, keeps a low profile and only makes public appearances in high-octane events like during the launch of his manifesto on July 23, just before the August 8 elections.
Primrose is in fact, the First Lady of Nairobi County.
The governor, however, posts her pictures during special occasions like during her birthday back in 2015. His other daughter, Saumu Mbuvi, is from his first marriage to high school sweetheart Njeri Wangui. The other daughter, Salma is as a result of a relationship with another woman who passed on in December 2015; while his son Osinya is adopted.
Rachel and Frank Shebesh: my husband is Godsend
Businessman Frank Ambundo Shebesh is the husband to former controversial Nairobi County Woman Rep Rachel Wambui Shebesh. From being publicly slapped on television to rumours of several adulterous affairs, alleged watchman assault drama and gun drama with Mike Sonko, Rachel still obviously looks up to Frank as the backbone of the family.
The father of three recently threw a 45th birthday bash for his wife at the Karen Oasis Club, where distinguished guests included Rosemary Odinga, the now Bomet Governor Joyce Laboso, Cecily Mbarire and Nairobi County Speaker Beatrice Elachi, while musician Suzzane Owiyo performed. Of her hubby, Rachel once purred, "My husband is Godsend. He is an angel. I have the best husband on earth. In Parliament, I work with male colleagues. That's why I am tough. But in my home, I am treated like a queen. He is a gem without whom I wouldn't be who I am today."
Boniface and Njeri Mwangi: at first, we weren't compatible
Hellen Njeri is the wife to award-winning photojournalist and political activist Boniface Mwangi who recently lost in the Starehe parliamentary seat race. The two met at a fast food joint in the CBD when Boniface was 23. He says it was love at first sight.
"When I first met Bonny, I did not think we were compatible. He was too ambitious and despite being only 24, he was too focused for me. He knew exactly what he wanted in life, while my life was monotonous," she recalled in 2014.
One month later, Njeri got pregnant and after nine months, the couple got married on March 2008 at Nairobi Sailing Club. She is a Daystar University graduate and the couple has three kids. The couple, who are bikers, work together at Pawa254 and last year, Njeri got arrested while protesting with her husband at Freedom Corner in Uhuru Park.
"I trust Boniface with my life, and also share his passion for social justice. But there comes a time when family comes first," she told The Nairobian in 2014, adding that, "I'm relieved that he has quit activism and glad that our children will have a chance to be with their father as they grow up."
James Orengo and Betty Murungi: my spouse Betty, has been Kind
The reputable lawyer and human rights activist is wife of Siaya Senator James Orengo. Betty Murungi has been a consultant and legal adviser on rights and democracy on gender-related crimes at the International Criminal Tribunal for Rwanda (ICTR) since 1998. Despite her high-profile job, she rarely cooks, but loves cleaning her house and bedroom.
Orengo, who has seven children – four boys and three girls-most of them kept away from the public, said of Betty: "I try to be as close to my children as I can. They have supported me in all I have gone through. My spouse Betty, a lawyer who is undertaking so much work in conflict resolution locally and beyond, has been so kind. I wish I could be there for them longer than I do."
Kalonzo & Pauline Musyoka: my wife smuggled me from Jogoo House
Pauline is the wife to NASA luminary Kalonzo Musyoka whom she married in 1985. They have four children.
The senior employee at the Central Bank of Kenya prefers to be in the background even when her hubby was Vice President of Kenya. She has been in and out of hospital for the better part of two years and six months ago, Kalonzo accompanied her for treatment abroad.
Kalonzo once confessed that his wife smuggled him out of Jogoo House when he was Education minister, when negotiations to end a teachers' strike failed in 1998, and the teachers surrounded Jogoo House and vowing not to leave until he spoke to them.
"At one point during the strike, hundreds of teachers had taken over the entire Harambee Avenue, outside the ministry. They inspected each and every vehicle entering and leaving Jogoo House demanding to talk to the minister." He added that, "I called my wife, Pauline, and told her, 'I think I will be sleeping here today. These people won't relent until I talk to them.' She offered to pick me since they did not know her. She drove to Jogoo House in our family vehicle. The teachers were not letting any vehicle with government registration through. She asked me to sit in the back seat and have my official car follow us at a distance. No one noticed."
According to communication consultant Derek Bbanga, it's all about the brand and legacy politicians or their spouses want to leave behind.
He says they are responsible for their personal brands, whether they are known or not. "What do you want people to think about you? How do you want people to take your brand and remember about you? What are they promoting?" he posed while commenting on bikini photos which Machakos First Lady posted on social media.
Related Topics