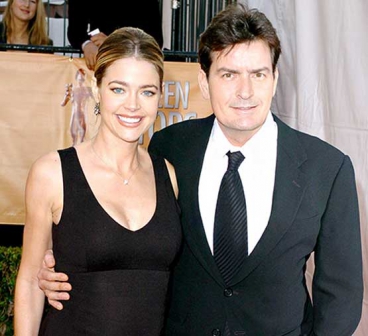 Charlie Sheen's second ex-wife Denise Richards allegedly knew he was HIV-positive for years, US reports claim.
Sheen - who has been revealed to be the Hollywood actor suffering from the infection, according to a major US website - was married to Denise, 44, for four years. The pair, who are parents to daughters Sam, 11, and Lola, 10, divorced in 2006.
A source claimed to US Weekly that the actress knew he had the disease and that her children are not HIV-positive. They added that he "got infected after they were together, four years ago or so."
Sheen, who has been married on another two occasions, is set to talk to America's Today programme on Tuesday morning about a "deeply personal" issue, the show revealed on Monday.
However, ahead of the interview US website Radar revealed his identity as the mystery actor living with the disease.
The website read: "After an exhaustive 18-month investigation, the ENQUIRER reveals the sex-crazed 50-year-old actor, who has a long history of sleeping with porn stars, strippers and groupies of both sexes, is now desperate to cover up his medical crisis, and it's costing him millions.
It's also been alleged he paid $5million to ensure no one spoke about him being diagnosed as HIV-positive.
Sources say the star has spent a huge sum - worth £3.3million - whilst one woman is alleged to have been bought a home in Los Angeles, where he lives.
Sheen, who has boasted of sleeping with more than 5,000 women, is alleged to have confessed his illness to almost a dozen sources.
Meanwhile, the actor's longtime publicist Jeff Ballard said in a statement on Monday that they had "parted ways" after "a disagreement on how to handle a situation."
"We have had a 35-year friendship and I love him," he added. "I wish him nothing but the best."
Related Topics