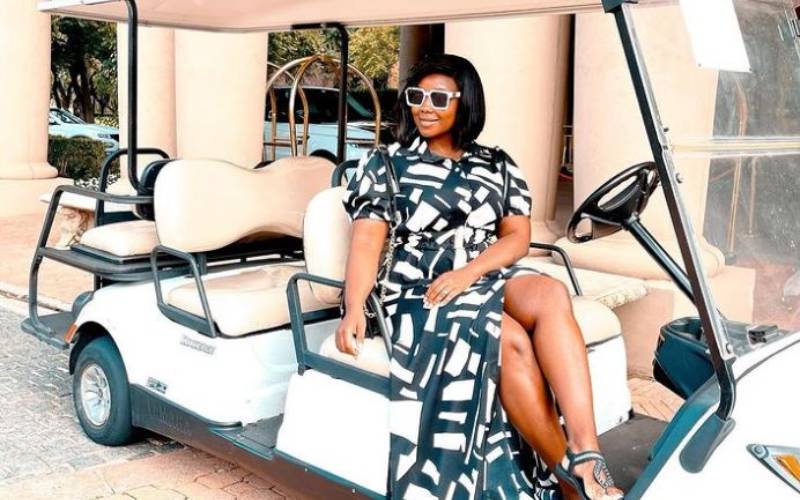 Celebrated actress Catherine Kamau aka Kate Actress jetted back to the country from South Africa after a weeks' stay in the southernmost tip of the African continent. Speaking about her experience in the streets of Mzansi, the mother of two admitted that she is not the fashion queen she thought she was.
Speaking in an interview shortly after she landed at the Jomo Kenyatta International Airport, Kate said she learned that there is a lot to be done as far branding is concerned.
"I am not a fashion queen as I thought I was. I need to up my game. But definitely, another lesson is how to work with other people and to network," she said in part.
Challenging fellow creatives in the industry, Kate said that there are great opportunities beyond what we have been exposed to urging her colleagues to get out of their comfort zone.
"We don't need to be closed in. Like just Kenya, we need to be exploring the whole continent," she said.
Kate received an invitation to South Africa for a lavish event dubbed The Bridgerton Affair. The event was a replica of the Netflix series Bridgerton. South African model and Miss Universe participant Zozibini Tunzi took on the character of Queen Charlotte at the unique African twist event of the English-based series.
Being the only artiste from East Africa, Kate did not shy off to admit that she truly deserved the recognition and honor.
"I have worked for it my whole life. This is what have always wanted to achieve and I feel honored, humbled and I think I need to stop playing small. I deserve these things because I have worked for them," she added.
Among the celebrities who were eagerly waiting for Kate's arrival at the airport was Martin Githinji who acknowledged the need to celebrate other artists who do extra work to put Kenya on the global map.
"We are here to appreciate one of our own. We are used to seeing these things being done for politicians and for athletes. She is our own athlete, she is our own politician. Let us celebrate her," he said.
Related Topics