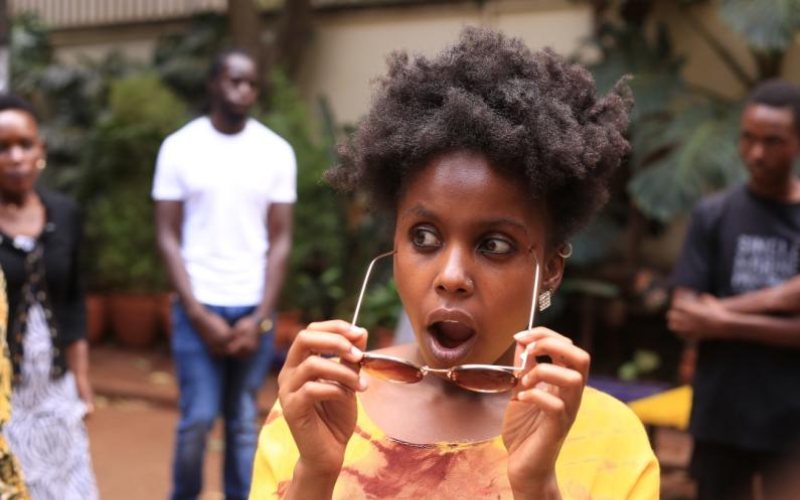 It opened the theatre doors with Don't Knock, a hilarious comedy play that was staged for four days at the Alliance Francaise, Nairobi, last month.
And now, Kenya's trusted theatre group Heartstrings Entertainment, is back with Three is a Crowd.
It is a must-watch, this one. With theatre's craziest comedians pulled together in this production, this is no doubt going to be a rib-cracker weekend-long affair at the same Alliance Francaise venue, we can bet. Tickets are reportedly selling out for the play that hit the stage yesterday, with most sessions already fully booked.
"This side-splitting comedy play, Three is a Crowd, hilariously explores the situation many people found themselves in during the Covid-19 necessitated lockdown. It unfolds the truth on how people wanted to get away from one another, seeking a breather from their socially suffocating surroundings," says Sammy Mwangi, the founder of Heartstrings Entertainment who is also the director of the play.
"Just like our previous play Don't Knock, this is a Covid-19 inspired production that should be able to give theatre lovers good therapy as theatre resumes. During the lockdown and the entire curfew time, people were under immense pressure, socially talking. Three is a Crowd brings out the special treasure that is only found in human beings. Everyone needs to watch this play," says Mwangi, a thespian.
The play features some of Kenya's film heavyweights who made it to the screen through theatre, some having featured in major projects such as Nairobi Half Life, Watu Wote, Crime and Justice. They include Paul Ogola, Adelyne  Nimo, Bernice Nthenya, Timothy Ndisi, Machrine Andala and Fischer Maina.
According to Mwangi, Heartstrings Entertainment has deliberately lined-up plays that hilariously reflect on what Kenyans went through during the dull Covid-19 pandemic time as they tried to survive challenges that came with the pandemic. He notes that Kenyans are still fatigued and need some kind of therapy they can resonate with before moving on.
In Don't Knock, which featured Paul Ogola, Machrine Andala, Adelyne Nimo and Bernice Nthenye, Ogola is a troubled man in the middle of a saga where every woman wants a piece of him.
One day, together with one of the women in the organisation he works for, they are absent from office and months after the lady goes public claiming child support from Ogola, claiming he is the father of her son.
It is a common picture that mirrors what our society has been treated to; with politicians and other prominent personalities as well as gospel artistes making headlines as affairs went south during the pandemic.
"People needed to know that the greatest asset we have is ourselves. Covid-19 sort of paused the planet so that we can rediscover ourselves and reconsider some things. Three is a Crowd quite hilariously brings out the consequences of going out of ourselves to find out what is inside. The results are as funny as they are brutal," says Mwangi.
"The return of theatre is cathartic. It is really calming to see just how therapeutically the fans are approaching theatre. It is refreshing to see how the fans hold us in high regard in that sense. This is rejuvenating; even more, the zeal to do what we do, entertain and educate. For actors and other players, this return is a realisation of the important part they play in the jigsaw that is theatre. They are realising that they are such a primal important piece in this field," he says.
After nearly a one-year break, the return to face-to-face theatre has been tumultuous. It has been a mixture of emotion and determination. The fans have been waiting for thespians in earnest, while play directors have been plotting on the best way to return on a high.
While actors have been out of the scene for long hence the need for them to work extra hard to get their groove back, the expectation from fans is overwhelming, with play sessions registering full capacity attendance.
"We were glad that we were back. I have steered off with the cliché portrayal of the Covid-19 period in the plays. I have gone ahead and made it entertaining," says Mwangi.