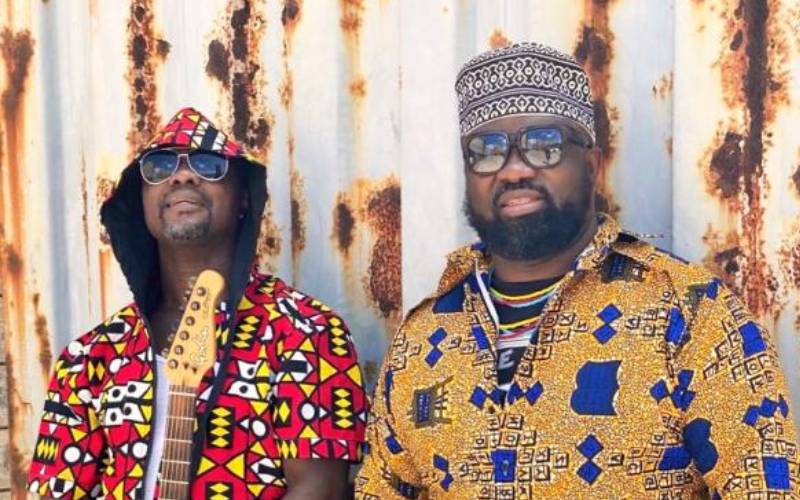 Jabali Africa has been nominated for next year's Grammy Awards. The Kenyan multi-faceted band is known for a unique mixture of African rhythms revolving around percussions, vocal harmonies and colourful choreographed dance.
The group, composed of Joseck Asikoye, Justo Asikoye and Dumisizwe Bhembem joins other musicians in the coveted music awards through the Best Children's Music Album category for their collective One Tribe Collect, All One Tribe.
"We made the submission and come last night (Friday night), I was invited to join an online reveal ceremony where they announced All One Tribe had been nominated for the Grammys," said Joseck Asikoye, a lead member of the group.
"All One tribe amplifies black and who were are, African music and our diverse cultural heritage as well as the depth of the roots were are grounded on," said Asikoye.  
Alongside All One Tribe, the Children's Music Album category features Activate Black (by One Two Three), Black to the Future (by Pierce Freelon) A Colourful World (by Falu) and Crayon Kids (by Lucky Diaz).
"We have been working on a number of kids' TV projects since we got out first breakthrough in the United States when we participated in the Fred Rogers show in 1996 where we did the Tree Tree Tree lullaby," Asikoye said.     
With the release of the Grammy nominees list, Africa is well represented, with West and Southern Africa artistes overshadowing those from East Africa.
However, artistes from Kenya and Tanzania have a reason to celebrate thanks to Jamaican reggae singer Etana, real name Shauna McKenzie's recent album. Etana's album Pamoja (a Swahili word translated as 'together') was nominated for the Best Reggae album alongside other reggae bigwigs Sean Paul's Live n Livin and Gramps Morgan's Positive Vibration.
The Pamoja album featured collaborations from Kenyan artistes, including Wyre the Love Child, Naiboi and Michael Bundi, and Nandy from Tanzania.
Kenyan rapper Mark Mbogo, popularly known as KayCyy Pluto, was also not left out of the nominated featured artistes list. He was featured in Kanye West's album Donda.
The awards are expected to take place in Los Angeles on Monday, January 31.