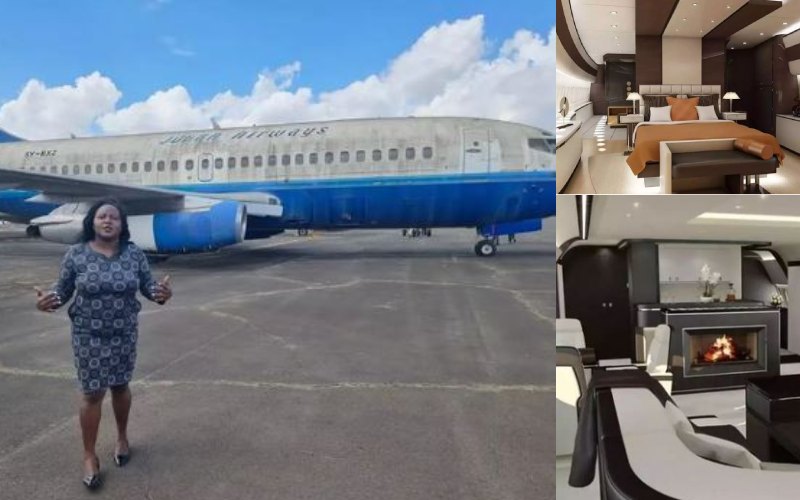 Bonfire Adventures MD Sarah Kabu has revealed plans to acquire junk aircraft at JKIA and transform them into lounges, restaurants and Airbnb.
Through a post on social media, Sarah stated that she has been toying with the idea of transforming the tourism space and she thinks having refurbished planes on a piece of land out in the wild would be a hit with millennials.
"We can acquire a few of them and transform them into AirBnB homes…perhaps have a lounge and restaurants so that you do not have to cook.
"I think this will be a new vibe that Kenyans would like to try. Would you invest in this?" she asked.
Sarah asked Kenyans who would be willing to explore the idea to reach out to her and discuss the venture further.
"Billionaires and millionaires mko wapi who has a big chunk of flat land that is idle somewhere ideal for tourism?
"Are you an interior designer, hospitality expert or creative ideas whizz.... what do you think we can do with these junk aeroplanes museum for the millennials tourism industry and where?" she asked.

Earlier she revealed the idea was inspired by her love for travelling, stating that setting up a museum for aircraft is on her mind.
"May this inspire someone who cannot afford busfare or lunch today…just remember Sarah Kabu was in your position a few years back and she is now getting close to owning an aeroplane," she wrote.
Recently, the Kenya Airports Authority (KAA) announced plans to auction about 73 planes that had been earmarked for disposal.
KAA, in a public auction notice, invited interested parties to bid for the planes that remain unpaid for by their respective owners or uncollected.
Two Somali Air Force planes, Skyward, Fly540, Silverstone and Planes for Africa aircraft were among the aircraft being auctioned.