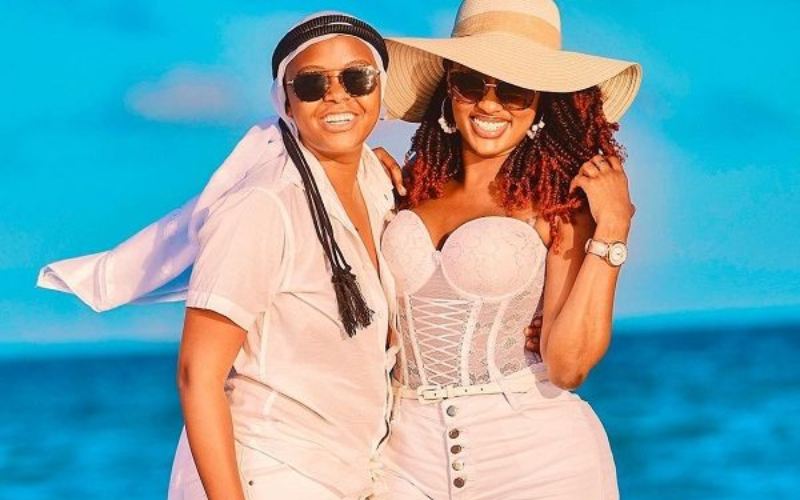 Just days after Marini Naturals CEO Michelle Ntalami revealed that she had broken up with her lover, a new development has left netizens wondering what exactly is going on.
Through an Instagram post on Thursday, Ntalami shared a stunning photo and captioned it "irreplaceable,"
An account with the username @makenanjeri_movement, believed to be Makena Njeri's fan page, took to the comment section to pour praises on Ntalami referring to her as 'queen.' The two have been long rumoured to be an item.
"Always Queening Mrembo," @makenanjeri_movement commented.
Ntalami responded, "@makenanjeri_movement Always fam!"
These recent activities on their Instagram accounts have left netizens puzzled.
"aki lakini si apa we lost with 1million others... lakini ata siongei juu sasa aidhuru navile nliurumia watu" @wamboiedith shared.
This comes just a day after Ntalami issued a statement claiming that Chiki Kuruka was not one of the persons she referred to in her 3-part open letter series dubbed "Open letter of Truth". In the statement, Ntalami added that what she is going through has nothing to do with the people who were involved with her partner.
"I want to be very clear and clear Chiki's name from the two persons I alluded to in my open letter. Neither of them is her. Additionally, the hurt caused has less to do with who the two are and more to do with 'them' and I. Ultimately, the decision to be faithful will always boil back down to these two people in the relationship. That said, keep shining your light @chikikuruka! As a fellow alley, I see and love what you are doing for the company and community! I will always be there in truth and in spirit," wrote Michelle.
On her part, Chiki expressed disappointment stating that she has never been in a relationship with either a non-binary person or a woman.
"Instead, I have always given my support to a community that I greatly love and respect. But this implore is starting to irritate me, not because my in-laws have to respond to this BS but because humans like you put allies off speaking up," she wrote in part.