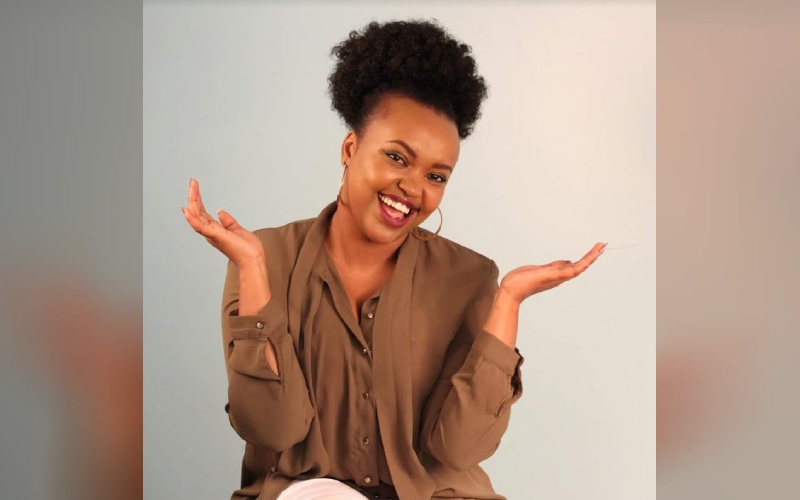 Janet Bett Karoney, the sister to Nyashinki's wife Zia Bett, was laid to rest on Friday, October 29, 2021, in Moiben, Uasin Gishu county, and it has emerged that she had already penned down her eulogy.
She was diagnosed with Severe Aplastic Anaemia on August 10, 2021, and two months later she wrote her own eulogy, prior to her demise on October 17, 2021.
Aplastic Anaemia is a rare blood disorder that occurs when the body stops producing enough new blood cells.
This makes the patient feel weak and fatigued and Janet highlighted this in her eulogy, saying the constant blood transfusions kept her going.
She looked back at her life and how she always looked forward to going to school, adding that it was at Strathmore University where she met the love of her life Brian Kipchumba Karoney.
"You see, Brian's uncle is my dad's friend and had requested Brian to look for me. Destiny, right? We built a friendship based on fun, humour, play and intellectual discourse.
"After six years of dating, Brian proposed to me in the most unforgettable way…we tied the knot on the 12th of December, 2017 in a super colourful ceremony by my standards," she wrote.
Janet described her husband as loving and kind, saying their love blossomed and brought forth their daughter Nemye.
She heaped praises on Brian, revealing that he stood by her till the end. "I have no doubt whatsoever that Nemye is in great hands and no one will take care of her and protect her more than Brian."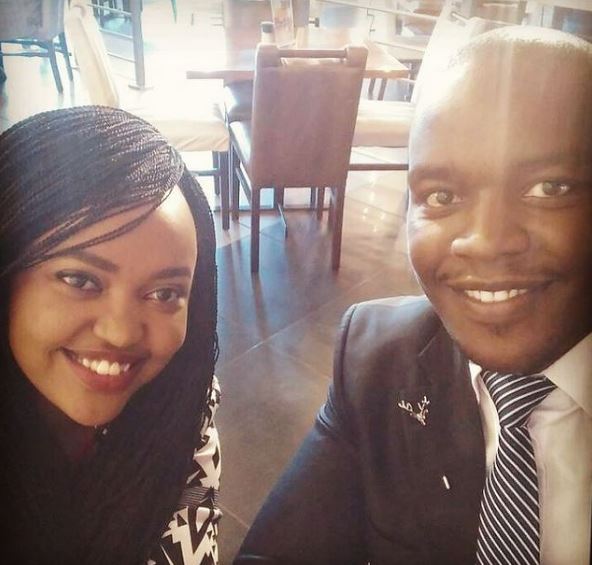 Career and growth
Janet wrote that she was passionate about what she did, starting out as an intern at Simba Colt before rising through the ranks.
She also highlighted her entrepreneurial journey saying she was often full of ideas and started out two businesses.
Illness
The mother of one revealed that the illness changed her life and her immunity was greatly compromised.
"With my low blood count, my body was unable to fight the infection. This was sudden and difficult, but my love resides in all of you.
"I had big plans to raise awareness about Aplastic Anaemia after my treatment, clearly that is not possible now," she wrote.
Janet added that she survived on blood transfusions while her family members got tested to find a match for a bone marrow transplant but unfortunately, her siblings were not a match.
"It was not their fault though…do you know there is only a 25% chance of matching with a sibling?
"Also, 10 percent of the marrow registry in the world are black people," she said.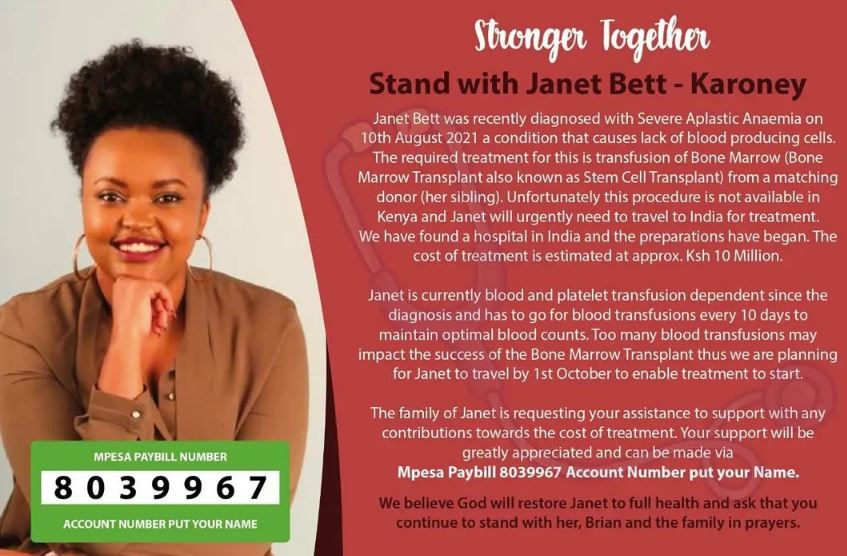 Final prayer
In her final prayer, she wrote: "Lord make me a rainbow, I'll shine down on my mother. She'll know I'm safe with you when she stands under my colors…
"Well, I've had just enough time, what I never did is done…and I'll be wearing white when I go onto his kingdom, so put on your best and I'll wear my pearls. Send me away with the words of a love song. Until we meet again, Love Jano.
Related Topics