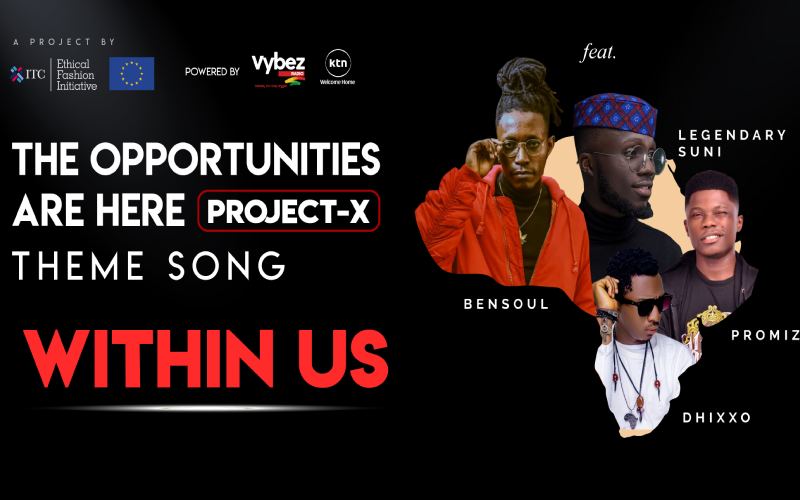 We are excited to launch the Opportunities are Here Project X in Kenya, a Pan-African talent seeking platform, looking to promote gender equality and economic freedom for young creatives. Giving African creatives the chance to be recognised and mentored to their fullest potential.
The programme aims to turn job seekers into job creators, by harnessing their talent and equipping them with necessary skills. Having worked in Africa for at least a decade,  with projects such as the EFI Africa Designer accelerator, we are always struck by how much creativity, passion and greatness lies within the youth of Africa.
Sometimes, there is no better way to convey the "TRUTH" than with a powerful song. Music amplifies the message of change and transformation, reminding anybody who dares to imagine that they can achieve their dreams, the power to change the world lies in their hands.
"Within Us" is a musical collaboration between Kenya's Bensoul  @bensoulmusic, a talented Pop Singer and also the Juror for the Artiste Category, he makes up one part of a group with Nigerian artistes which includes; RnB artist Legendary Suni, rapper Dhixxo and beatboxer Promiz.
The four artists united by their African ethnicity, youth, talent and motivation to not just dream but do. No message could be as timely as this inspirational song, which speaks to us at a time of great uncertainty in the world. Change and transformation is possible and it is in all our hands, for anyone who dares.
The artistes say about the programme: "We have chosen to rise above the fear and uncertainty of 2020 and we are honoured, grateful and excited to bring you "The Opportunities are here-Project X" youth empowerment project that seeks to give a platform for all the talented youths in this talent hunt. We have packaged this Project with selected Masterclasses that will help transform business ideas into sustainable ventures."
Listen to within us by clicking on the following links https://www.deezer.com/en/album/257792182
https://music.apple.com/au/album/within-us-feat-bensoul-promiz-dhixxo-single/1585230994
https://open.spotify.com/track/7N3WWWOIfllHMyjfPSOH7a?si=e034bab28848455d
Here are the steps to registration
1. Complete the form online
https://ethicalfashioninitiative.org/stories/project-x-kenya-apply-now
2. Shoot your Talent video showcasing identity
3. Post in your Instagram and Facebook
4. For each post 2 different Hashtags must be used: #TheOpportunitiesAreHereKE and one more hashtag specifying your
category#OahXArtisteKE , #OahXModelKE or #OahXDesignerKE
The Opportunities Are Here Project X is a programme of Ethical Fashion Initiatives in partnership with the European Union.