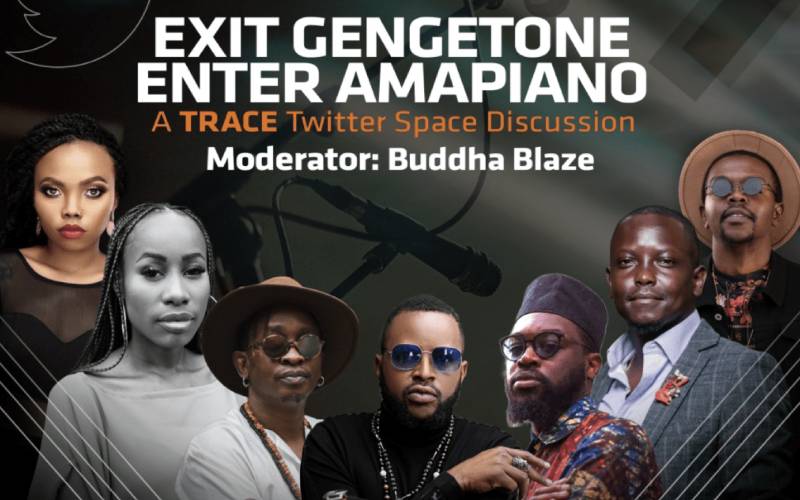 With netizens wreaking havoc following a post on Trace Twitter Space dubbed Exit Gengetone, enter Amapiano, the global music platform has been forced to apologise for the negative perception the post has elicited.
In the past 24-hours, Kenyan artistes and the online community at large widely alluded that through the post, Trace East Africa was insensitive and unfair comparing Gengetone – the Kenyan street music genre with Amapiano – the South African beat that is quickly gaining ground in the country.
"This is terrible framing. Terrible and also false. Gengetone is not on a deathbed. Also, literally, no one on this panel creates or thrives in the Gengetone ecosystem. Yuk. Is this what we are doing, talking sh** downwards at young Kenyans because piano piano?" said Muthoni the Drummer Queen.
The session was slated to be moderated by veteran Kenyan Hip Hop icon Buddha Blaze and was to feature a number of Kenyan creatives among them celebrated Kenyan singer Eric Wainaina.
Others included Blinky Bill, Brian Muluvu and Charllote Bwana. The discussion that was set to take place last night had no Gengetone artiste invited to the panel.
"As Gengetone fan, I believe that platforms about the genre should prioritise gengetone artistes. I share the concern about the framing of @TraceEastAfrica's discussion. I have ceded my spot. And I remain available for constructive conversations that could benefit Kenyan music," said Wainaina.
Trace East Africa promo was viewed to be in bad test; a suggestion that Gengetone is 'dead' and that a 'foreign beat'. Amapiano is now favourable over the street beat that has ruled the Kenyan airwaves for the last three years.
Blinky Bill also withdrew from joining the panel, saying he opted to give his mic to someone from the Gengetone world. Blinky noted that "Gengetone artistes have built something from the ground up and that is really valuable. I will join as a producer".
"You have read and heard about our Twitter space dubbed Exit Gengetone, enter Amapiano. We would like to apologise for the communication on the above subject. As a platform, we are all about empowerment and we support and love Gengetone and all music genres in all their forms," a press release by Trace read.
"Our objective was to bring together artistes, key industry players and music lovers in a healthy discussion around ways to elevate and support our local subgenres to break into the international space. We acknowledge our mistakes and we are reaching out to the relevant parties who are knowledgeable in each genre to give us adequate knowledge on the above".
Adding his voice to the debate, Muluvu said he understood that it was not Trace's intention to paint Gengetone as being on its death bed as he faulted the tone of caption for the reaction it elicited.
"Wording and tone are very important. I have had a bad feeling about the caption used for the Amapiano-Gengetone Twitter spaces. You do not tell Kenyans, in Kenya, that what they have built is on a death bed," said Muluvu.
In the last year, club deejays have been popularising the Amapiano beat, with event organisers cashing on it through concerts that exclusively play the genre. This has not gone well with most Gengetone lovers, who are of the opinion that 'their' space is being raided into.
Much of the blame around this has gone to deejays seen to set the pace in slowing down the popularity Gengetone has already gained.