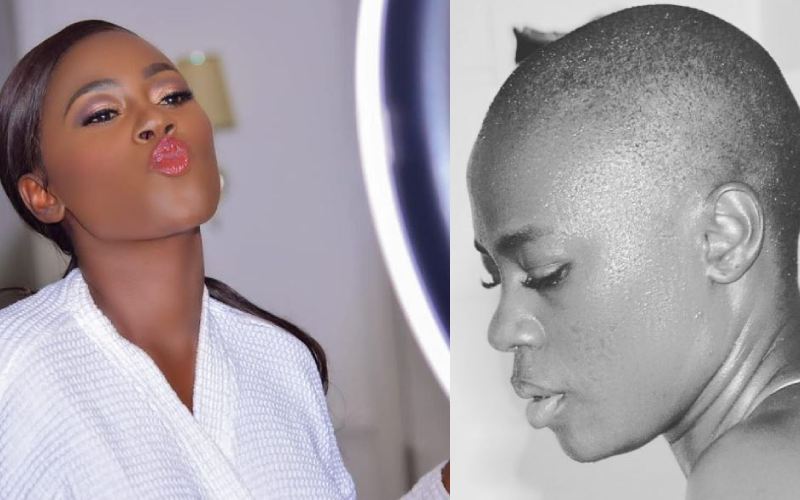 Singer Akothee has shaved off all her hair and is looking all sorts of amazing.
Sharing pictures of her new look with her fans on her social media page, the mother of five urged fellow women to consider putting down their added hair and makeup and rock their natural look.
"All of you put your wigs / weaves down. With no makeup. Let us pull this on.  @bienaimesol, how do you find me? You need a bald woman to love you better," she wrote.
Although the Akothee Safaris founder pulled off the bold look, she went on to reveal that her boyfriend, Nelly Oaks disagreed with her decision to go bald.
"I have gone bald, na ni kama Mzee hajapenda @nellyoaks. Allow me eat @peptang_ke and answer you later baby," she wrote.
The singer's fans including Sauti Sol's lead singer Bien Baraza too gave their opinion on the singer's look with a good number commending her for her bravery.
"Kwa relationship only one person needs to have hair," teased Bienaimesol.
Another user by the name Afrika_qonnect added, "Natural is sexy."
Lynntonbakersandcaterers said that Akothee looked younger bald. "Looking very young in bald."  
Bald is beautiful
With her recently acquired bold style, the Oyoyo crooner has joined a growing list of gorgeous celebrities with short hair.
YouTuber Joy Kendi is among those that have maintained their short hairstyle for years and was at some point recognized by Essence for how effortlessly she rocks it.
Appreciating the mention by New York lifestyle Magazine, the content creator took to her social media in a previous post to encourage women not to be afraid to go natural.
"See, you really don't need long hair to be beautiful. @essence. The day I showcased my newly shaved head to the world was the day I realized that too many people care way too much about other people's hair. The amount of "why would you cut your hair?" I would get every day for 5 months was insane. Or even better "why would you cut your hair? It was soooo long and beautiful," she wrote.