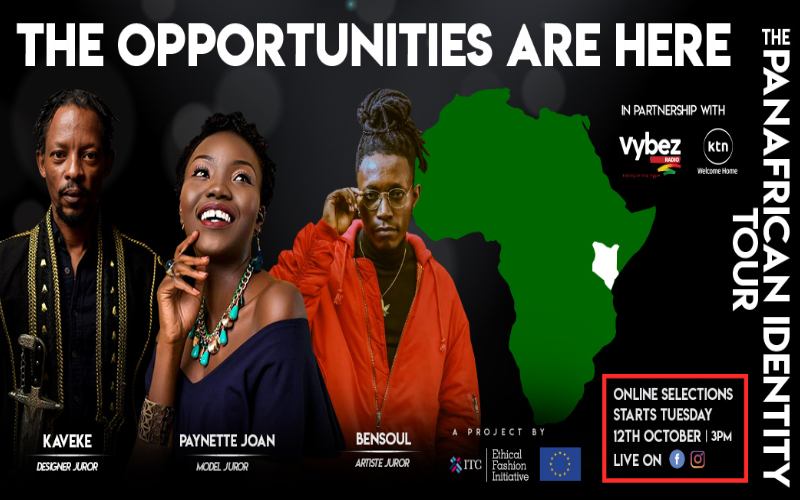 Hello Creatives in Kenya,
Are you ready to grab the opportunities coming your way? The clock is ticking, it's time to move fast.
The Opportunities are Here Project X is proudly sponsored by the EU and ITC's EFI. Project X is an online and radio show supported by KTN Home and Vybez Radio that seeks to discover, train and promote youth in fashion design, modeling and performing arts. You have just enough time to submit your videos in your call for entry, as you note the following dates.
On the 12th October we shall begin auditions for those who have submitted their videos and have been pre-selected. Join Kagwe mungai @kagwemungai, Paynette Joan  @Paynettejoan and John Kaveke  @johnkaveke on IG and FB Live as they appraise the performances of our talents. Invite your friends and family to join you, cheer and vote for you[1]  and generally have a good time online.
Join us on Friday 15th October from 5pm - 6pm  with our jurors Bensoul @bensoulmusic and Paynette Joan @paynettejoan on VYBEZ RADIO Nairobi 104.5 | Mombasa 98.7 | Nyeri 98.8 | Meru 107. 1 | Eldoret 107.5  Hosted by the amazing Susan Njoroge @suracommon to find out the 15 most remarkable performances of the week who are making it to the next level of the competition.
From then on, make a date with us every Tuesday and Friday as the talent hunt unfolds. There is more than just entertainment for you; there are masterclasses conducted by Kenya's finest professionals, offering you instant mastery in creative entrepreneurship.
If you're a creative, refuse to procrastinate and submit your video before 12pm, Friday  22nd of October 2021 to get your own opportunity to audition and be in the chance to win;
Cash prizes range from $280 for finalists to $1370 seed capital for the final winners
A 3 month incubation to learn specific skills that will enable you to turn your creativity into a job and income, with Metta Nairobi
An international trip to Paris
What are we waiting for????
Register here; https://ethicalfashioninitiative.org/stories/project-x-kenya-apply-now
We hope you grab this opportunity with both hands. What are you waiting for? In a world in crisis, Project X comes, hoping to give you a chance to have your talent recognised on a local level with the opportunity to go global. This is your moment!
Keep following @opportunitiesarehere in IG and @theopportunitiesarehere in FB to receive updates. This Project is a Pan-African Talent platform by Ethical Fashion Initiatives in Partnership with European Union @eu_partnerships