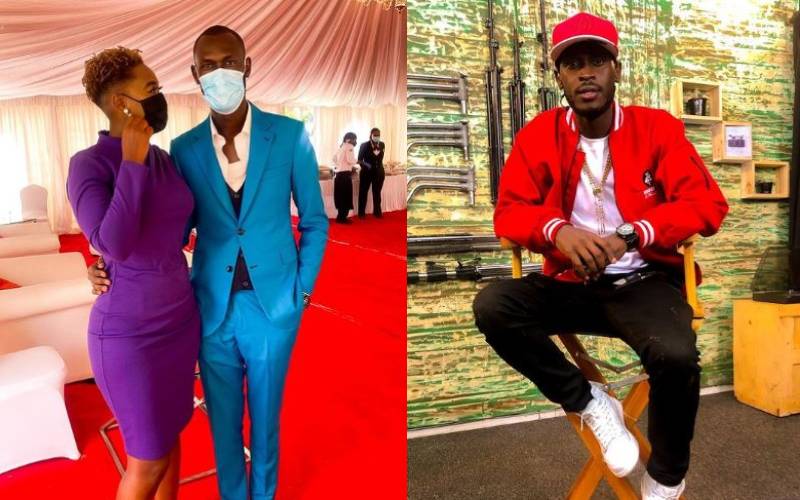 TV host Nana Owiti has heaped praises on her husband King Kaka, lauding him for his endurance and persistence throughout his illness.
Through a post on social media, the content creator recalled nights they would pray beside their bed and King Kaka would be calm all through despite the uncertainty surrounding his health.
Owiti recalled a particular day when she woke up her husband to pray in the middle of the night and he obliged despite his feeble state.
"I remember when the doc suggested we do the tumor markers test…The tests were to be done the next morning. That night I could barely sleep. I lay in bed worried and doing one thing I'm always perfect at, overthinking.
"I woke you up in the middle of the night to kneel down and pray beside the bed. You obliged. Your knees weak so you put a pillow beneath," she recalled.
Adding: "I don't remember crying as much as I did on this night as I prayed...I asked God for peace in my head and in my heart and a clean bill of your health instead He answered through you... I don't know how you slept so soundly to this day."
She struggled to comprehend how King Kaka was calm about the entire situation and managed to sleep soundly.
A fortnight ago, King Kaka thanked Nana for taking care of him throughout his illness.
Taking to Instagram, the Wajinga Nyinyi hitmaker described Nana as a best friend who has been by his side all through, spending nights beside his hospital bed.
"Let me count my blessings. The last three months have been nothing short but terrifying [sic]. This lady here @nanaowiti has shown and proven what a wife and a best friend is.
"From kulala kwa couch ya hospitali next to my bed then you wake up shower in the same hospital, go and smile kwa TV like everything is okay to fighting with Nurses on why they are 'slow'," wrote King Kaka.