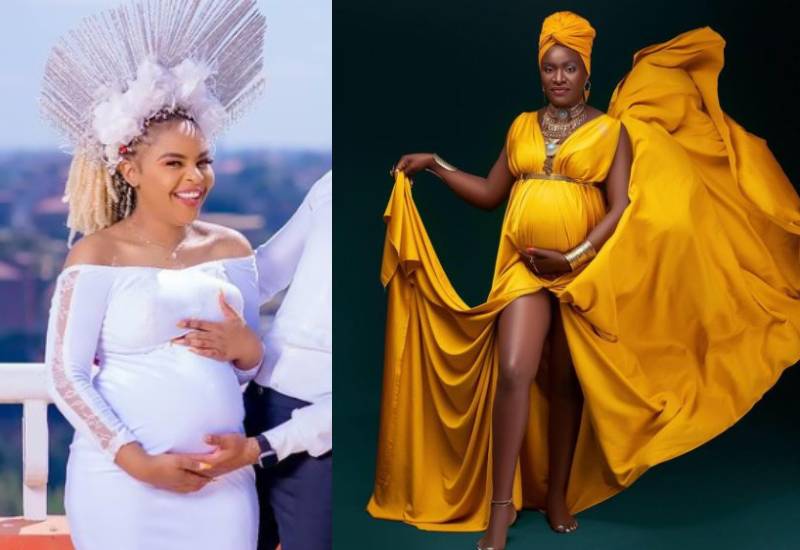 Fans of Comedian and Gukena radio presenter Wangari Nguri alias Auntie Jemimah and Gospel singer Linnet Munyali Muraya alias Size 8 are still sending in messages of hope and love after the two celebrities shared unfortunate news about their unborn babies.
Taking to social media, Auntie Jemimah, who has curved a niche for herself in the comedy industry thanks to her witty dramas that tend to portray a typical African mother, announced that she was expecting a baby girl but unfortunately the baby had passed on before her birth.
"My girl arrived at 34 weeks, sleeping. I held her in my arms and said goodbye. I am broken, oh so broken that there was nothing I could do to bring her back to life," she wrote in part.
Auntie Jemimah went on to reveal that she will take time to mourn her daughter, whom she named Nduta, and that she will not succumb to the insensitive and often inhumane unwritten laws of celebrity life that expect celebrities to bounce back as soon as possible from any difficult moment they might experience.
"I therefore will be taking a sabbatical to mourn my Nduta the best way I know how and for as long as it takes. Thank you for the love and support. Auntie will be back," she added.
Her announcement came barely hours after Size 8 revealed that she lost her pregnancy in an emergency medical situation.
In a video the gospel singer shared on YouTube, she revealed that her medical condition compelled her to go under the knife at a city hospital after she suffered from high blood pressure and fluctuating body temperatures which put her in great danger and unfortunately she lost her baby in the process.
"My blood pressure hit high levels and it was abnormal. Doctors tried all their best to bring it down but it still kept fluctuating which was dangerous. I am grateful for life! I would have passed on but you (God) choose to save me. Though my little one didn't make it, I know she is well in your hands," she stated.
Losing a baby is a pain that a mother should never go through. Over the years, reports of celebrities who have lost their bundles of joy have made headlines as the public consoles and joins them in mourning their departed angles. A while back, celebrated gospel singer Kambua announced that her newborn child had passed away only a few days after delivery. First breaking the news on social media, the popular singer revealed that her son, whom she had named Malachi Manundu Muthiga Mathu, succumbed to birth-related complications not long after he was born.
"What a privilege it has been carrying a life yet again. My little baby boy Malachi made a grand entrance into the world a few days ago. He was everything we hoped for, and more, much more. Perfect in every way. Malachi knew how much he was loved, and so he did all he could to stay with us," she wrote in part.
Opening up about the death of his daughter, Popular TV presenter Willis Raburu admitted that sometimes society might not understand the father of a child when such an incident occurs. He even disclosed that he still cries and mourns the demise of his daughter, Adana.
"Society often, though not always, tends to annihilate the man, make him look devoid of feeling because "Men ought not to feel" or "You did not carry the baby" while the last one part is true, what is also true is that we feel. That I feel pain each day, that I still cry, that I still wish she was here. I honour her," Raburu opened up.