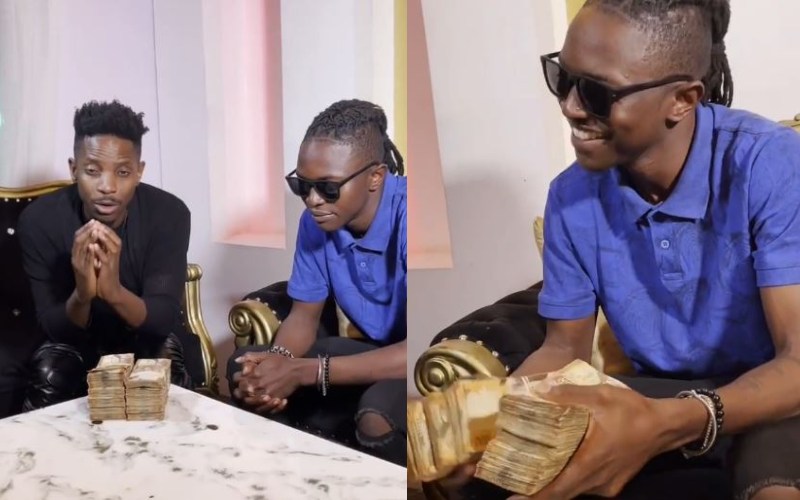 Eric Omondi has delivered his promise to gospel singer Mr Seed. Taking to social media, the stand-up comedian revealed that he delivered Sh1million to the singer adding that his career should be protected and supported.
According to Eric, Mr Seed is the only remaining male gospel artiste in Kenya and he should be encouraged.
"We promised and we've delivered!!! Mr. Seed is the only remaining male gospel artist in Kenya. He must be protected and supported. @mrseedofficial," he said.
In a video posted on Instagram, Eric further added that he had promised to financially support Mr. Seed through investing in him.
"Nilisema pale kwa launch kwamba Seed is among the best Gospel artistes wenye wamebaki in the whole Country and we have to invest in Mr. Seed. Ilikuwa muhimu tukuje tupatie Mr Seed hii pesa" noted Omondi.
Speaking after receiving the cash, Mr. Seed revealed that he had received a lot of promises but none of them had been fulfilled. He further thanked Eric for delivering his promise.
"Thank you so much Eric…am so grateful...Eric Alisema 1 million na ametimiza. Kuna zile zilisemwana hakuna hata moja imetimizwa…but at the end of the day wasee walikam kunisupport na nilikuwa so humbled na nashukuru sana," he said.
Just a week ago, during the much anticipated 'Black Child' album listening party hosted by Mr. Seed, Eric showered the singer with praise, claiming that other male gospel artists have already left the industry.
"We said we will support Mr seed because he is the only male gospel artiste remaining in Kenya and representing God, the rest have already left the industry. He did his event and launched his album that has blessed so many people and we promised to bless him with Sh1million," said the comedian.
During the album launch, Eric insinuated that he received half a million from his boss and topped up the remaining amount.