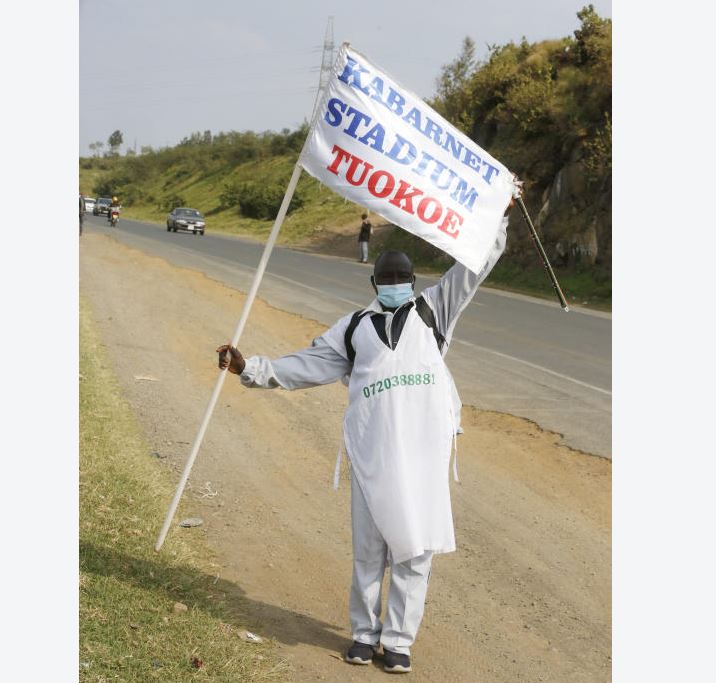 A 61-year-old man who is seeking to compel the government to complete the construction of Kabarnet Stadium is expected to arrive at State House, Nairobi, today.
Joseph Malatit, who began walking from Baringo County to Nairobi on August 26, had covered over 300 kilometres by Sunday morning.
The former chief told The Standard that he hopes President Uhuru Kenyatta will receive him at State House. He expects to cover 10 kilometres today.
"I don't have an appointment, but I believe the president will receive me. All I need is to present my request to him," he said.
It is not clear how much money he intends to raise for the construction of Kabarnet Stadium, but what is evident is his dream of seeing young people in the county have a place to nurture their sporting talents.
He also says he expects to meet Safaricom Chief Executive Officer Peter Ndegwa to see if the company could support the initiative.
Yesterday, Malatit spent the better part of the day in Kangemi, where he spoke of how his journey has been challenging due to the changing weather patterns.
"Baringo County is quite sunny, and when I arrived in Limuru, it was cold," he said.
He bought three pairs of shoes on his way. Two were worn out by the time he arrived in Nakuru. 
"I met people who stopped and inquired what I was up to and also supported me. Along the stretch between Gilgil and Naivasha, I encountered baboons," he recalls.
He said police officers at various roadblocks offered him lunch and encouraged him to soldier on.
Malatit prays that his dream to have the stadium completed will be realised.