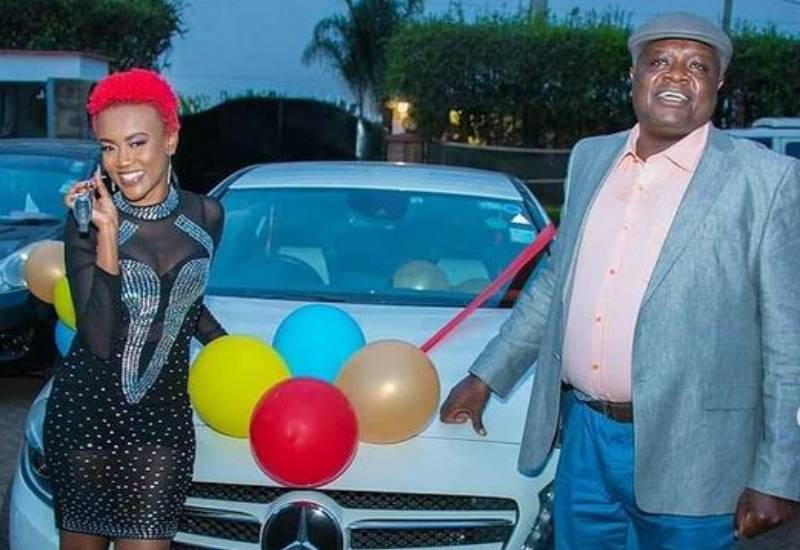 Kirinyaga Women Representative Purity Ngirici was the talk of the town over the past weekend after buying her daughter a luxury vehicle for her 21st birthday.
The politician and her husband gifted their daughter, Tanya Ngirichi a new Mercedes Benz, an exciting present that was parked outside the venue of the birthday party and decorated with an array of celebratory balloons.
"Tanya my daughter, you are a blessing in our lives. You make me proud as a mother. You are our pride. Happy birthday," the Women Rep wrote on her official Facebook and Instagram accounts.
The politician also shared images from the exclusive party, where the birthday girl, chic with bright red hair, shared the day with family and friends.
There were arrangements of different coloured roses, balloons and a poster boldly declaring the events of the day in gold-coloured calligraphy; " Tanya Love at 21."
One of the notable guests at the birthday bash was YouTuber and influencer Natalie Tewa, who was photographed among Mrs Ngirici's family and friends in a beige dress.
The moment when Tanya received her surprise gift was captured on the photos too. They show her being led, blindfolded, to her awaiting Benz.
The young lady is then portrayed being pleasantly shocked and elated after she sees the car, embracing her father and other family members before checking out the interior of the vehicle and dancing the evening away.
Kenyans on the internet were quick to talk about the pricey gift, offering mixed reactions about it.
"I would do the same for my daughter. Dad's daughter bond is beyond what words can explain," a FaceBook user going by the name Shakes wrote.
"Kindly do not show us this when we are suffering because of covid restrictions. Be mindful of us whenever you post how life is good for you," wrote Eddie.
Pesh Kimani poked humour at the gift, asking to be adopted by the seemingly well off family.
"Happiest birthday to her. Can you adopt me? I've been dreaming of owning even if it's a Vitz," Kimani wrote.