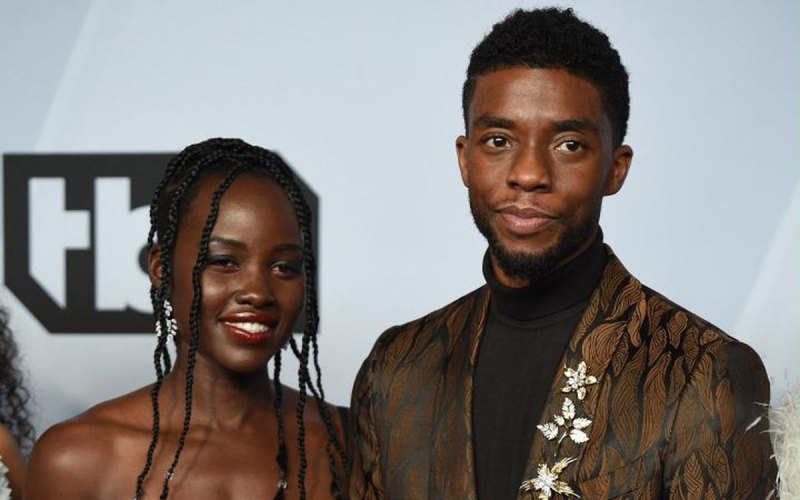 One year after the demise of Black Panther star Chadwick Boseman, Hollywood actress Lupita Nyong'o has taken to social media to reminisce the moments they shared.
Taking to Instagram, Lupita stated that despite Boseman's death, his memory is still alive in her.
"I did not know that I could miss both his laughter and his silence in equal measure. I do. I do... One year after his passing, the memory of @chadwickboseman remains this alive in me," wrote Lupita.
If you have heard people saying "Wakanda Forever" and loosely associated it with a movie, stand corrected that it is more than that. The statement is derived from the film Black Panther, a chant by the film's characters', the Wakanda people.
The film is an Oscar-winning piece that highlights crucial social justice themes, combating racism using powerful portrayal of black people. Further, it addresses issues such as human trafficking and poverty in its themes.
Black Panther marked a major milestone in the fight for social justice and changed the way people see film - to have it be used as a means to bring the black community together in empowerment.
Lupita worked with Chadwick in Black Panther, playing King T'Challa's love interest Nakia, and looking back at the experience, she stated that the deceased had such a powerful impact on how she perceives life.
"Chadwick was a man who made the most of his time, and somehow also managed to take his time. I didn't know him for long, but he had a profound effect on me in the time that I did. When we came together to make Black Panther, I remember being struck by his quiet, powerful presence," she wrote last year.
"He had no airs about him, but there was a higher frequency that he seemed to operate from. You got the sense that he was fully present and also somehow fully aware of things in the distant future. As a result, I noticed that Chadwick never seemed rushed! He commanded his time with ease."
Chadwick's hands were strong enough to carry the weight of the film
On set, Nyong'o said Boseman would show up energized every single day and he set the bar so high, maintaining a humble demeanor at all times.
Lupita added that he never heard him complain even though there were things worth complaining.
"He understood the power of words and chose to manifest power through his word. He used his mouth to build, to edify, never to break. And he used it to tell some regrettably lame dad jokes…he expressed who he really was even when it meant he didn't smile when you thought he should. He accepted himself and perhaps that's why he was capable of loving so many, so deeply."