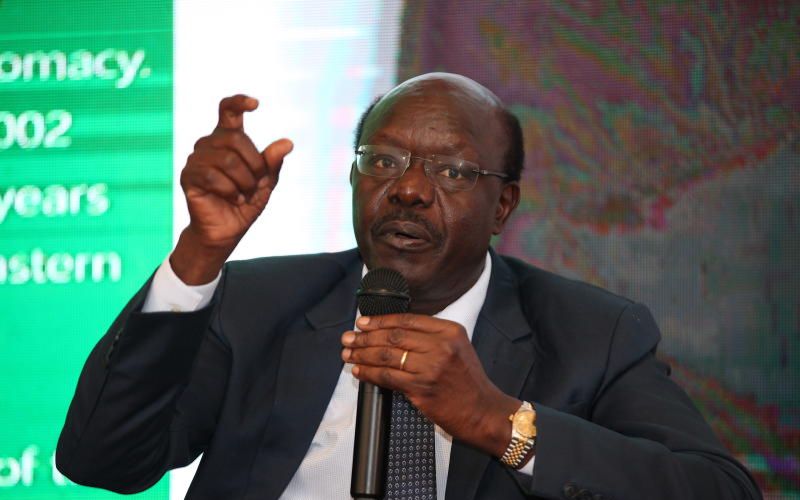 Presidential hopeful Mukhisa Kituyi on Tuesday, August 17, said he won't be derailed by "non-issues", when asked about a controversial video that went viral earlier this year.
Kituyi said he "won't lower the debate of his candidature below his neck".
Speaking on Citizen Television on Tuesday night, the former UNCTAD Secretary-General reiterated his suitability for the presidential seat, saying he will "maintain respect and dignity for all Kenyans, including his political opponents".
"I believe personal integrity issues are important in the choice of leaders across the board. Kenyans should judge me on the basis of my integrity, and judge me on the basis of how I deal with national challenges," he said.
"Do I compromise the security and integrity of my country? That is the basis I'd like to be judged [on] by Kenyans."
He said in the interview that he would seek expert skills in running the country if elected President.
Pressed to confirm or deny the authenticity of the controversial June 2021 video, Kituyi said: "I do not want to lower the debate of my candidature below my neck. Who is Mukhisa Kituyi? What does he stand for in this country? I will sustain a campaign nationally throughout; a campaign of dignity and respect, even for my opponents."
Reports in mid-June suggested that the presidential hopeful had dismissed the viral video claims as "propaganda mounted by his political opponents to ruin his reputation".
Kituyi denies giving an interview to any news outlet in regard to the video. "That is a manufactured story. I have not given any statement to any media outlet or any individual, whatsoever."
The former Kimilili Member of Parliament also addressed speculation that he has been planted strategically by a "big shot" to deny certain presidential candidates vote numbers, particularly in the vote-rich Western Kenya region.
"I am not anybody's project, and if I was anyone's project it would be visible by now," he said.