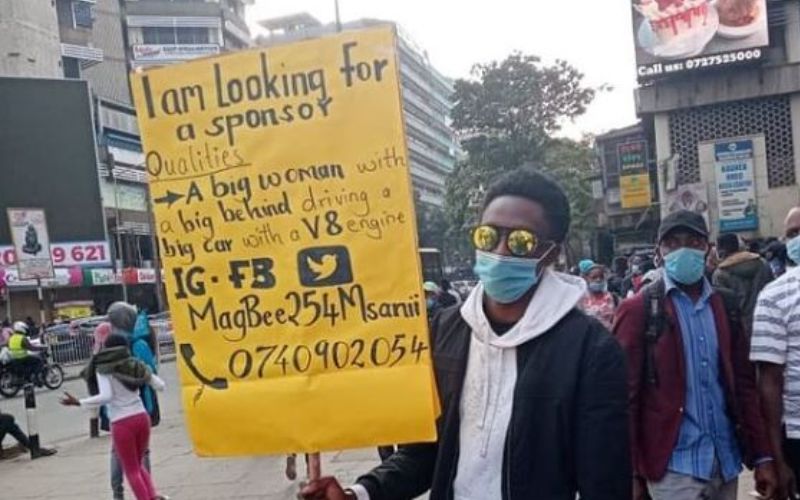 A 25-year-old man who surprised many when he took to the streets with a placard to advertise that he wanted a sugar mummy has been left disappointed after only jokers called him.
Edwin Mugambi told The Standard on Saturday that despite his bold step, he had only received calls from a handful of women whom he described as jokers.
"It is sad the callers I get think it is some child's play and want to interview me about my life instead of talking about business," he said.
He, however, remains optimistic that soon he will land a serious sponsor and they will lay down the rules.
Mugambi also said that once he gets a serious candidate, they will have to go for a HIV test before they embark on any activity.
He said he took the bold step after life in the city became unbearable.
"I know many people cannot go down that route out of shame, but I am in a position where I have to think outside the box," he said.
Mugambi, who is pursuing a Bachelor of Commerce degree at Dedan Kimathi University, said he was forced to defer his studies after his younger brother joined MultiMedia University.
"Things became tough after my younger brother also joined college and I was expected to take care of him on top of providing basic necessities for myself," he said.
He says he opted to look for a sponsor after venturing into music because it takes quite an investment to put out a video.
Mugambi said he does not permanently want to be in the sugar mummy business but will use the proceeds to invest and finance his music talent.
He also said he is planning to go back to school and complete his degree and try to see if that will buttress his hustles.