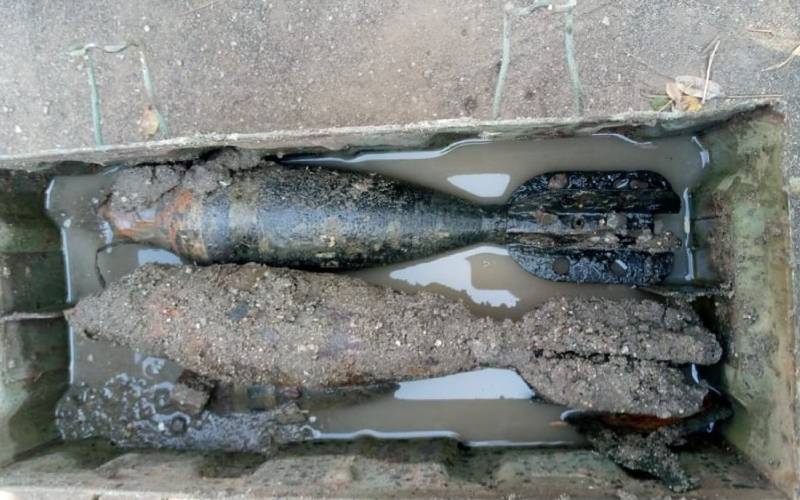 An early morning fishing routine for a group of fishermen on Wednesday led to the discovery of six mortar bombs in Lake Victoria.
According to the DCI, the fishermen thought they had made a huge catch when their net suddenly became heavy but to their surprise, they discovered a heavy metallic box.
"In a bid to discover what was contained in the box, they hastily broke into it only to find six, 60mm mortar bombs, staring at them.
"Two fishermen who were shocked by the finding immediately opted to jump into the hippo-infested waters, fearing that the bombs would go off. Three of the remaining fishermen steered the boat ashore, and reported the incident to the beach management chairman, Isaiah Ouko," read a tweet by the DCI.
For a while now, fishermen have been stumbling upon all sorts of weaponry and in 2017, one group came across 800 bullets while on a fishing expedition.
The bullets were discovered at a shallow part of the lake near Litare Beach on Rusinga Island and had been carefully packed inside a metal box.
According to Litare Beach Management Unit (BMU) Wilson Nyajwaya, the fishermen thought they had come across a precious metal in the Lake.
Others felt they had got a big fish amid skepticism because their net was not meant for big fish.
"Omena is usually light but we were surprised because the net was extraordinarily heavy," said Nyajwaya at the time.
A few years ago, a Standard Six pupil died on Rusinga Island after a bomb he was playing with exploded on him.
The boy had no knowledge that the metallic object earlier recovered from the lake was actually a bomb.