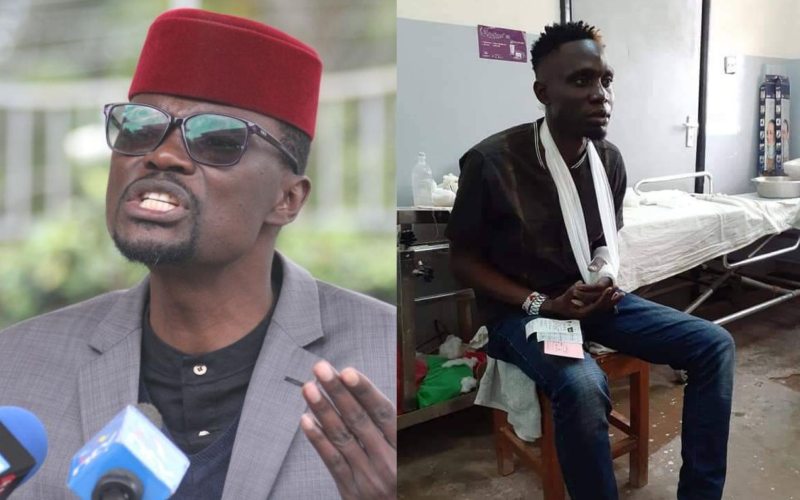 Kimilili MP Didmus Barasa has denied slapping a contractor at Baptist Lurare primary school despite the entire melee being captured on camera.
In a video that has since gone viral, the lawmaker is seen slapping a contractor identified as Stephen Masinde for refusing to hand over classrooms that had been built at cost of Sh3.4million.
According to Masinde, the MP had refused to pay for the services and their calls often went unanswered.
"When we (Graham Wafula and I) asked the MP to pay us he says that he does not pay contractors half of their money but he pays them in full and he will do so and we shouldn't be worried.
"I have locked these classes because I have not been paid and handing the entire project to the MP might mean that I will never be paid," said Masinde.
In a quick rejoinder, Barasa, speaking at Namasanda Primary School, said he never slapped Masinde, instead, he was asking him to zip up his trouser as he was embarrassing himself.
"…Kwa vile ni raifiki yangu nikaona nikama alienda kujisaidia na alikua hajafunga zip. Mimi naona gari yake ndogo iko ndani hajafunga nikasema wacha nikimbie nimwambie garage yake iko empty funga duka. Sasa wakati nilienda kumuambia hivo akatoroka mbio akafikiria naenda kumpiga. (Since he is my friend, I thought he had gone for a short call and failed to zip up his trouser… when I approached him he started running away thinking that I was going to beat him)," Barasa said.
The contractor has since filed a report at the Kimilili police station.