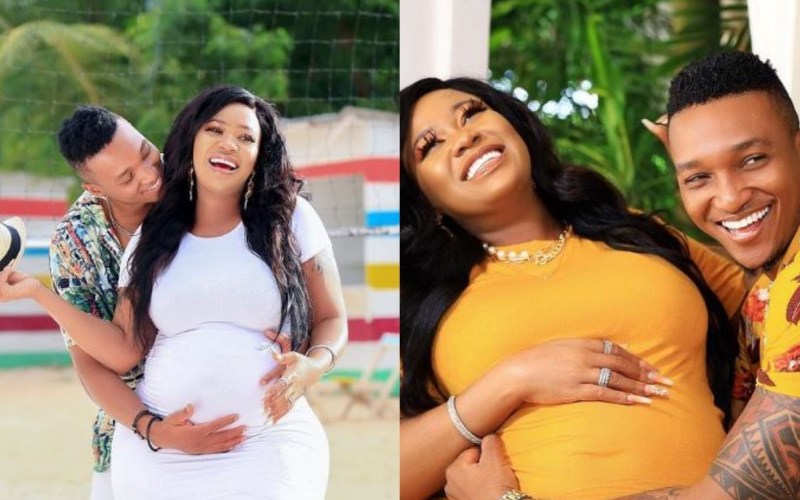 Vera Sidika has heaped praises on her husband Brown Mauzo for bringing her closer to God.
The Veetox founder and CEO expressed optimism that their daughter will have the best dad and was looking forward to daddy-daughter moments.
"You're so loving, genuine, kind & extremely God fearing. You have brought me closer to God and I'm glad God chose you for me. Our princess will have the BEST dad in the World & I can't wait for the beautiful daddy-daughter moments after her arrival. I love you so much Tinda the best dad."
"Am happy to call you mine, you are my soulmate," replied Brown Mauzo, in a message accompanied by love emojis.
Remembering how the two met, the Veetox founder said the artiste was sure he would marry her the first day they met.
"I remember the first day we met, you said: "I'm going to make you my wife" in my head I was like, this dude!! little did I know we'd be here today, married and pregnant…Look at God. Soon starting our cute little family. InshaAllah God brought us together & had/has plans for us".
Utanizalia
For the second time Vera has been featured in a music video by her man.
Vera, who held a lavish gender reveal party last weekend, has been serenaded by Brown Mauzo in a song where he praises her for keeping a promise when she vowed to give him a baby.
Vera has been previously featured in her ex-boyfriend Otile Brown's hit 'Baby Love'.
Brown Mauzo's song appears to put to rest rumours of trouble between the two, which started after he missed Vera's gender reveal party last weekend.
Vera showered her man with praise on Instagram as soon as the song was released.
"They call you Brown Mauzo, @brownmauzo254 some with your government names: Fredrick Mtinda Kilonzo, but I prefer TINDA! You've always been and always will be my Big head, VS Spa's Husband, Shikwekwe's heartbeat, My sokwe oh boy! The list of pet names is endless," read part of her caption.
The song which so far has more than 100k views is a dedication to Vera and her unborn baby girl.