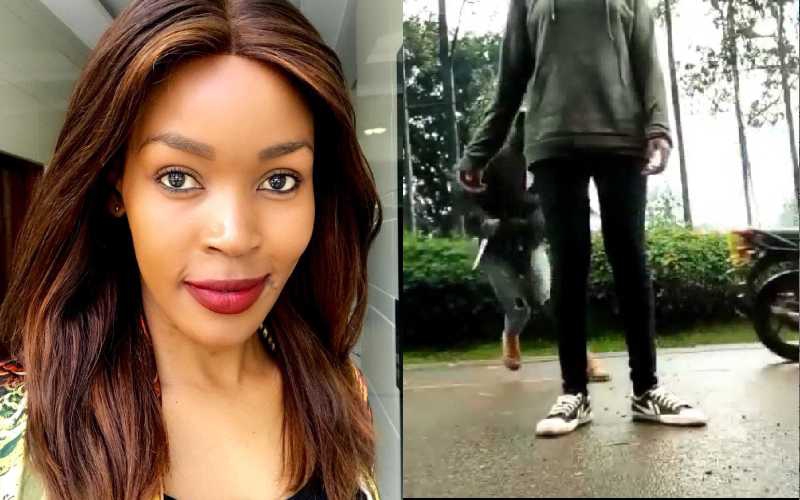 Fashion model turned entrepreneur Yvonne Afrostreet has narrated her nasty ordeal in the hands of day robbers. Yvonne, the founder of Afrostreet kollektions gave the chilling encounter of how gun brandishing thugs aggressively accosted her as her terrified children watched.
"I got robbed at gunpoint along the southern bypass at 11am," part of her statement read. "A guy pretends to cross the road only to come back pointing the gun at me demanding that I open the door. I had my babies in the car," she said.
Yvonne further explains that her efforts to drive off were thwarted when two more men sprung from the nearby bushes and tried breaking the car windows with stones. In the confusion, the fashionista states that her attempts to scream proved futile as no help was forthcoming.
"I was so scared and ended up opening the car and that is when they took everything they could," she said. Fortunately, no one including her children were hurt from the ordeal save for the resulting trauma. "I thank God we are safe and alive but I am still scared with so many 'what ifs'."
Yvonne claims that she suspects the puncture was artificial. "I had just come from the gas station to fuel and add pressure to the wheels. Such a hell of a weekend."
In yet another recent incident, a TikTok user going about her business was captured on a live session as thugs made away with her phone. While recording her workout, the unidentified lady was attacked by knife-wielding thugs who shove her off the way before ending her session, leaving her screaming for help.
Seemingly unawares, the damsel set up her camera on a lone residential street and as she was warming up to start her routine, a knife brandishing male jumped from a motorbike and made his way for the phone.
The man shoves her off the way, leaving the terrified victim screaming for help. None of the attackers nor the victims faces are visible but any victim would be shaken at the site of the oversized dagger.
It is not clear whether anyone was hurt during the incident. Efforts to curb the high rising cases of insecurity within the city seem to have hit a snag as more and more cases keep rising on a daily basis.