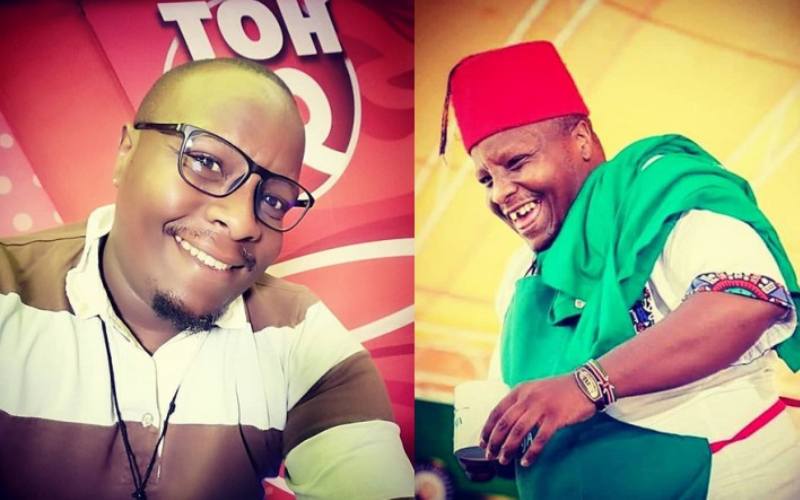 Mother-in-law actor Andrew Muthure aka Mustafa recently opened up on his struggles during the past few months saying family has been kind to him.
Speaking during an interview with content creator Kamuhunjia, the actor revealed that he lost his radio job and struggled to make end meets.
"I was on Hot 96 for five years and unfortunately, I was retrenched alongside a few others. That was very difficult," he said.
"My wife was pregnant at the time, she had a very difficult pregnancy and was on bed rest throughout the day. My severance package was all spent out on bills," he narrated.
Mustafa noted that members of his family came through for him and helped him pay rent, adding that having an understanding landlady helped a great deal as he would pay in installments.
"I have survived through prayer. My family members have been my heroes for they bring me food, help to pay rent, and offer encouragement.
"God has been with me all through. I have a very understanding landlady, and she knows how tough things are," he said.
He admitted that he is not doing well financially but has a few shillings from some episodes of Mother-in-law that keep him afloat.
"I don't have much I can call work, and I still live off my extended family. There are a few shillings that come from Mother-in-Law episodes that I did last year. I am diligently looking for work," said the actor.
He added that his greatest fear is dying poor, something he has seen happen to many in the Kenyan showbiz industry.
"We have had lots of Kenyans celebrities who are just big on TV and end up dying paupers. That's one of the fears I experienced when I got fired from radio," he said.