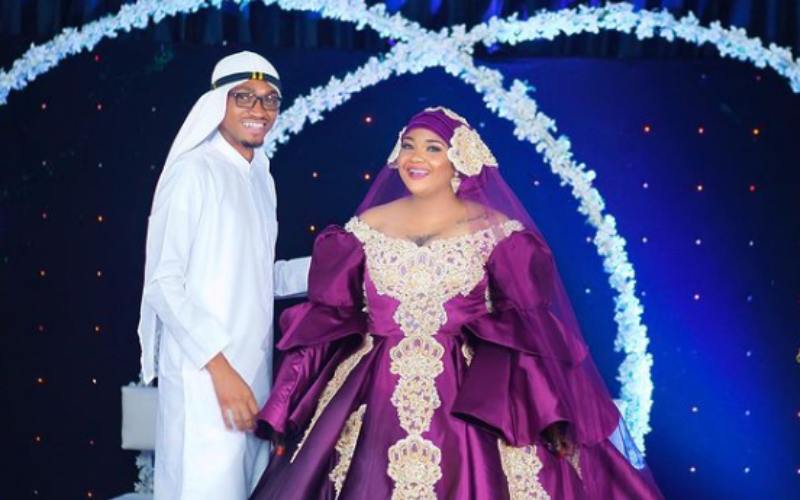 Actress turned businesswoman Zena Yusuf Mohammed popularly known as Shilole is officially off the market.
The bubbly Tanzanian celebrity got married to her new lover, Rajab Issa alias Rommy in a colourful star-studded wedding ceremony held in her hometown.  
"Alhamdulillah tumemaliza salama. Officially Husband and Wife Happily Taken and very much in Love. From now on you can address me as Mrs Rajab Issa (Rommy)," she wrote.  
An elated Rommy equally took to his social media to share his excitement with his fans and thank God for the gift of a wife.
"God creator of Heaven and earth, thank you for this. The ideal husband to Zuwena Mohamed Yusuf," Rommy posted on his page.
Domestic violence
The couple's wedding comes approximately nine months after Shilole walked out of her marriage with husband Ashraf Sadik better known as Uchebe over domestic violence allegations.
Opening up in a lengthy post on social media, the singer recalled instances when her ex-husband beat her explaining that he was often provoked by small misunderstandings.
"I am writing this with a clear mind and conscience. First, I would like to apologize to my family. I am seeking your forgiveness because I assured you that my marriage was trouble-free, while in reality, it wasn't peaceful. I have been a victim of domestic violence and other evil acts I cannot speak about on this platform.
"Two days ago, after hustling on Saba Saba for provisions to cater for him and my children, he beat me up. The reason, a small misunderstanding - present in all marriages; not that he caught me cheating or anything big, no, I respect him. The solution to it, he saw, was to awaken me from sleep with blows. The photos are evidence of what I have on different occasions gone through.
In a message to women in similar abusive relationships, Shilole advised that they should speak out and seek financial independence.
"To all the ladies, struggle to have something to your name, however little. Have financial discipline and be ready to be called names as you make savings. God will bless you with a piece of land. Build a house in it, slowly. A house will always shelter you. Whoever has an ear let her listen," shared the personality.
Getting back together
A few weeks after Shilole publicly accused her husband of domestic abuse, Uchebe went on to post numerous pictures of a woman with a striking resemblance to his wife on Instagram, a move that earned him criticism from angry netizens.
He however refuted the claims revealing that he was keeping his options open just in case Shilole decided to get back with him.
"I cannot hurriedly get into another relationship with someone else and I don't know if I will get back with Shilole. About her being in a new relationship, well one thing about us men is when one goes, another comes. At the end of the day I am exercising and staying in shape as I work and look for money. I won't quarrel over love," he told Global Publishers.