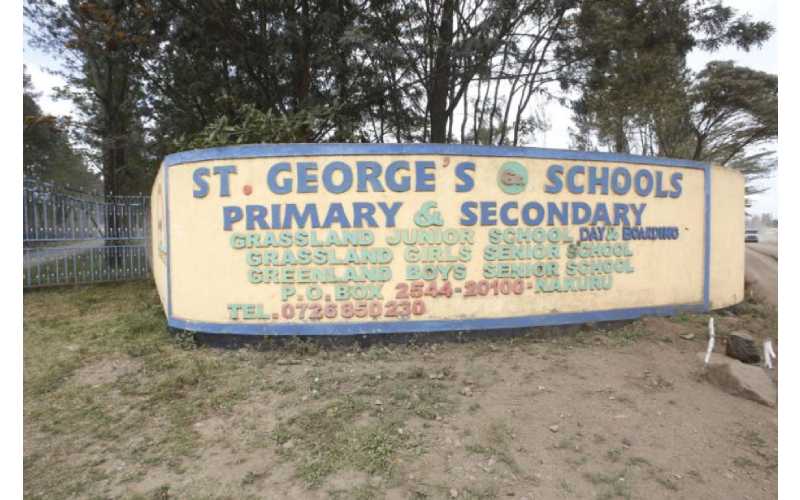 An 18-year-old student sneaked out of St George's Grassland Girls High School on Monday evening after the school management allegedly refused to release her over Sh9,000 fees arrears.
Mirriam Omanga completed her last Kenya Certificate of Secondary Education (KCSE) paper at 1.30pm on April 19 but the management told her she would not leave without clearing the fee balance.
Omanga who hails from Mombasa had booked a bus home with the hope of reuniting with her parents but the school had other plans.
Yesterday, The Standard caught up with her in Nakuru town in a friend's home at Satellite Estate where she had sought refuge.
"I had cleared with the school secretary but she told me to see the principal for further directions," she said.
Her request to have the principal allow her travel back home as her parents made plans on clearing the balance fell on deaf ears forcing her to find a way of leaving the institution.
Clear the balance
According to Omanga, she decided to sneak out of the school by accompanying another parent who had come to pick her daughter.
"I followed my classmate's mother and sneaked out of the compound. When I arrived in Nakuru town, I went to a friend's home where I spent the night," Omanga said.
Her mother, Maurine Anyango said she received a call from her daughter while still at school informing her that the principal had ordered her not leave the institution until she cleared the balance.
"I tried to plead with the school's management to release my daughter as I looked for money to clear the balance but they refused," she said.
Anyango had also reached out to education officials in Mombasa who contacted their counterparts in Nakuru but by the time they resolved the issue, the student had already sneaked out. 
The principal, Michael Okoth, confirmed that the student had not cleared her fees but also that the management wanted her to spend the night at the institution since it was late.
The student said she was not given a pass to leave the school or a letter to facilitate her travel to Mombasa since Nakuru is under partial lockdown.
Geoffrey Mayama, the Nakuru North deputy county commissioner while delivering a letter to facilitate Omanga's travel, asked the institution why the student didn't leave with her belongings but the principal explained that was the norm for students with fee arrears.
The principal also said that journalists had been paid to follow up on the issue.
"It is very clear that you guys have been paid to come here and ask me questions, why can't she use the money to clear the debt?" he posed.  
The Standard established that it took the intervention of education officials in Nakuru and to have the girl given a letter indicating she was a student at the school and should be allowed to travel back home.