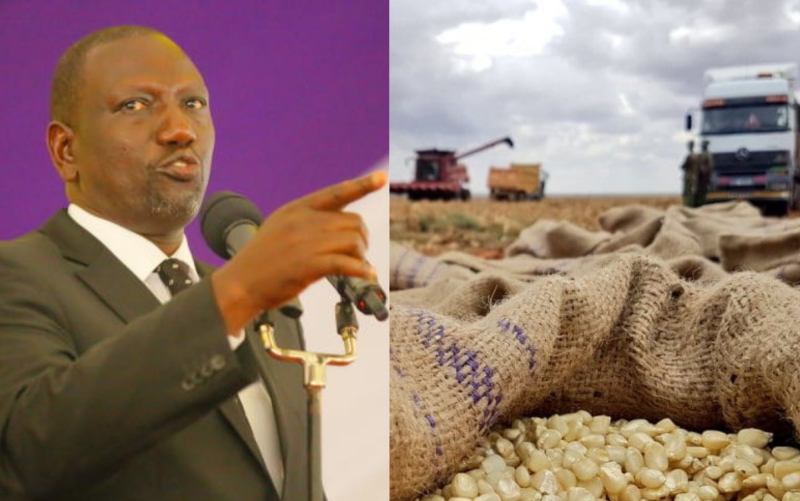 Deputy President William Ruto on Thursday evening distanced himself from importation of maize saying he has never imported even a single grain. Speaking during an interview on Citizen TV, the DP stated that he is a maize farmer and often uses his harvest for domestic use.
"I have never imported even a grain of maize. I grow my own maize. I do not even sell it. I use it to feed my chicken …I stopped selling maize to NCPB a long time ago," he said.
The DP was also put on the spot over the stadia project that Jubilee failed to deliver and he stated that the projects will be concluded in due time. He was also asked whether he intends to work with ODM leader Raila Odinga in 2022 and he said he has not had a discussion with the former Prime Minister regarding an alliance.
"I have not had a discussion to have an alliance with Raila Odinga… I have met Oparanya to discuss politics 5 times. At no time did we discuss about him being sent by Raila," he remarked.
Adding: "Raila Odinga is my competitor. Raila is the most formidable opponent I have in 2022. If Raila will not be my competitor, who will be? From where I sit, the strongest forces we have are the Hustlers and the ODM team."
The DP also distanced himself from the 'Dynasty Narrative' saying he has never made reference to any dynasty, accusing its proprietors of trying to create divisions among Kenyans. "When I supported Uhuru Kenyatta I knew he was the son of a former president. I supported him because I looked at him and saw an intelligent man who could work with me.
"The fact that you can support Uhuru because of his intellectual capacity, you can support any other person," he reiterated.