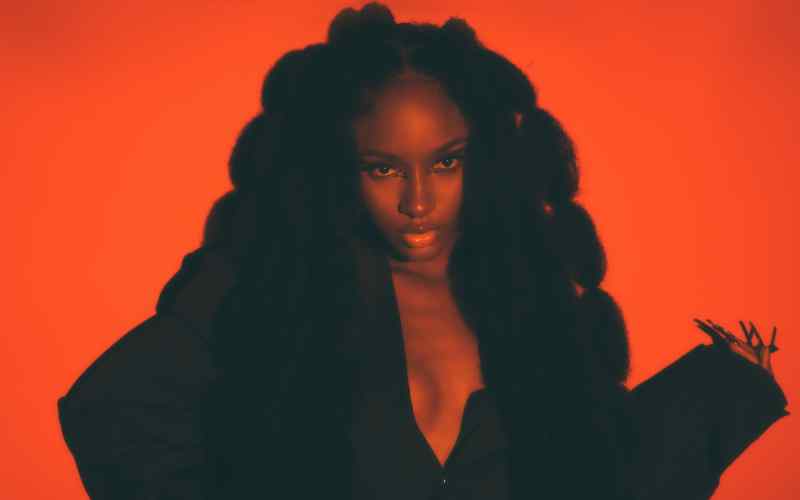 Lockdown and containment may have had its pitfalls and lows, but one of the highs was the art that sprung from the corridors of the Internet.
One of those talents was Ayra Starr, the Nigerian teenage sensation that was hidden in plain sight and became the latest gem out of West Africa. She went from posting hash tags 'Aspiring singer' and flooded DM's of song requests from fans and followers, to doing big budget music videos, and being signed to arguably the greatest producer and music mogul in Africa, Don Jazzy, under his music company Mavin Records.
Mavin Records is and has been credited for the careers of the likes of legends D'banj, and new school award-winning act Rema, but the cry has been for a female singer to step up to the plate and become the crown jewel for the label. Well, Ayra Starr has arrived.
"I really saw Mavin as a place that I could grow and reach my goals. The team works incredibly hard and have supported me so much. There's a bond and a professionalism that I saw in the Mavin team that would be very hard to replicate anywhere else," Ayra said, adding that she had multiple offers knocking at her door, but was sold the moment she realised Mavin was interested in her services.
Her self-titled EP and debut project would follow in January this year, with the hit song 'Away' currently topping charts in Apple Music Kenya, and various other regions, also boasting of over 2 million views in just two months of release.
"Away" has a soul-gripping touch to it, from the glamorous beat to the rich notes she hits on the chorus, she reveals she did the song in her bedroom with her brother Milar. She describes it as her 'fight song', and an empowerment anthem to anyone to release anything that causes them pain or stress.    
"In December 2019, I had never actually recorded music in a studio before. When I started recording at Mavin, I was determined to explore my sound and find my voice as much as possible. I recorded dozens of songs (over 40) and eventually we chose the five songs for the project." She nonchalantly states. She has grown up between Nigeria and Benin, and this gives her a broader perspective when she creates, a typical trait of the Gen Z artists of today that make genre-fusing and boundary-crossing music, she terms as "Soul music" – "I make music for the soul, it's not necessarily any genre".
Her sound and amazing cuts have been so refreshing musically, she has been placed in Apple Music's artist discovery program, Rising Stars, and has already been interviewed by seasoned music journalists such as Nadeska Alexis, and this makes these sorts of accolades aren't afforded to just anyone, so clearly she must be an outstanding act.
"It's been amazing so far. The reception to the EP, I feel so blessed and happy people resonate with and appreciate my music. Things have been pretty busy and hectic, but I'm so grateful for all of it. To be chosen as the new generation of African music is so close to my heart. Africa Rising has opened me up to a lot of creatives and platforms doing wonderful things all over the continent. It's been a great experience so far."
With all the fame and attention, it's easy to get caught up in the moment, but not Ayra, she realizes she is only rolling up her sleeves and is ready to put in more work. Hither to fame, she has always been obsessed with music, and credits her musical background for shaping her to the artist and person she is today.
"I'm a very family oriented person. I have to find time for my family and siblings no matter what is going on. I also have a very close relationship with God. Prayer is incredibly important in my life." She explains of her being grounded.
She recalls when she could just walk in the mall and not get noticed, but she has come a long way. And with all the notoriety, it would be tongue and cheek that a popstar would just ride the wave and make music, but she is not your average star. At 18, she has a strong head over her shoulders, and more than anything, she stands for something. During the END-SARS protests, she stopped everything she was doing, went to the streets with no fear, or fancy clothing, she just wanted change. And this is what makes her star shine even brighter, the fact that she can be selfless and put other people's needs before hers.
"I was and still am very proud to be part of a generation that is standing up to impunity. I hope we can continue to make our voices are heard and bring about genuine change for all Nigerians."
According to her, Gen Z is about defeating stereotypes that society previously created.
"We play by our own rules. I wouldn't say I'm a leader. I'm proud to be part of the people representing an iconic generation. Society can't box us."