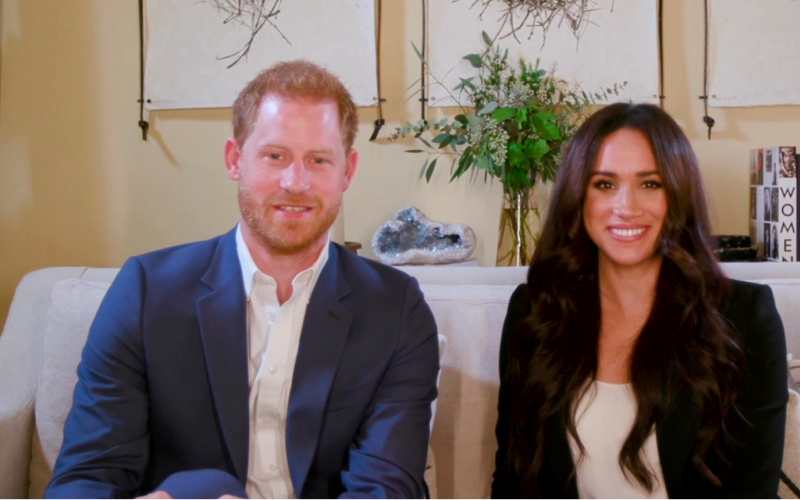 The drama surrounding Meghan, Duchess of Sussex and Prince Harry's exit from the British royal palace will be fictionalised in a Megxit Lifetime movie. According to reports, the show will fictionalise what happened inside the palace that drove Harry and Meghan to leave everything behind in order to make a future for themselves and their son Archie.
The film follows Lifetime's 2018 movie, Harry & Meghan and the 2019 film, Harry & Meghan: Becoming Royal. It comes after Harry and Meghan's bombshell interview with Oprah Winfrey where they accused an unnamed member of the royal family, not the Queen or Duke of Edinburgh, of raising concerns about how dark their son Archie's skin tone would be, before he was born.
As discussed with Oprah in the interview, the movie will purportedly show Meghan's growing isolation and sadness, the couple's disappointment at the royal family for not defending them in the media and Harry's fears that history would repeat itself and he would not be able to protect his wife and son.
Viewers will also be privy to family feuds between William and Harry and their father Charles, as well as the daughters-in-law, Kate and Meghan, that ultimately led to their decision to leave the royal life behind. Casting is under way and production will start soon thereafter. Lifetime hopes to debut the movie later this year.
According to sources, Harry & Meghan: Escaping The Palace is executive produced by Merideth Finn and Michele Weiss, with Menhaj Huda as director.
The greenlight of the movie comes at a time the couple are still receiving a backlash following their exclusive interview with Oprah. The latest attack comes from Meghan's half sister Samantha who said that Prince Harry has no right lecturing the world on fake news.
In her latest remarks, Samantha says Harry and Meghan have been responsible for putting their own unusual spin on events. She highlighted Meghan's claim the couple had two weddings, with the pair later forced to clarify they had simply had an informal exchange of vows.
Meghan had said she and Harry secretly tied the knot in their "backyard" with the Archbishop of Canterbury days before their lavish royal wedding. Samantha told New Zealand's Newstalk ZB radio show the royal was in "no position to join a company that deals in misinformation" until "he gets a grip on what the truth is."